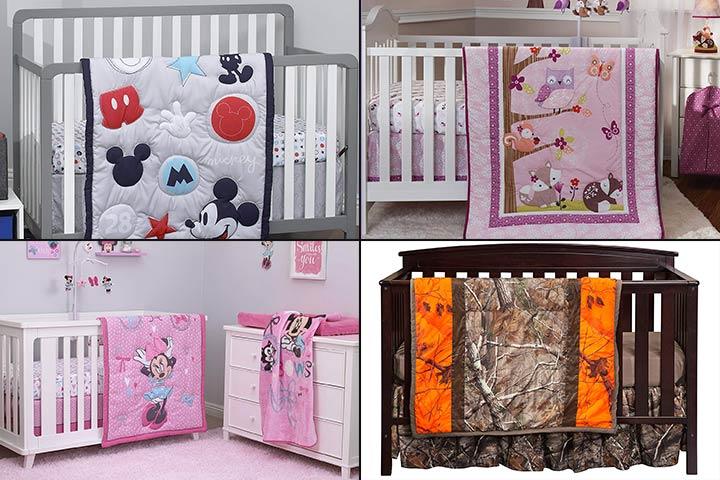 IN THIS ARTICLE
A clean and dry mattress is essential for your baby to sleep well. But if your little one wets the mattress too often, then maintaining it becomes difficult. Also, you may not want to keep your baby in a diaper for long hours. So, how do you ensure that your infant sleeps well while keeping the mattress clean and dry? You may invest in a good bedding set.
A good crib bedding set not only shields the mattress from dampness and moisture but also keeps your baby cozy. In this MomJunction post, we present some of the best baby bedding sets you can buy for your dear angel.
What To Look For In A Bedding Set?
Remember to keep these points handy when buying a bedding set for your baby.
Sponsored
Perfect fit: According to the American Academy of Pediatrics, the sheet over the crib mattress must be tight-fitting (1). Loose sheets could increase the risk of suffocation. Therefore, ensure that the mattress cover fully encases the mattress.
Material: Bedding cot sheets come in different materials, the most common ones being cotton, flannel, and polyester. You can pick a material as per your preference. Cotton is a natural material and could be softer. You can also consider fabrics that are a blend of cotton and other human-made fibers.
Theme: Parents like to follow a certain theme while designing their child's nursery. In tandem with the growing variety of nursery designs, companies offer all types of bedding sets. You can consider a design theme that works with baby's other items like toys and clothes. Toddlers may have their preferences when it comes to their bedding designs.
You can always pick multiple designs and pamper your little one with an assortment of bedding sheets. In the next section, we have compiled a list of the nine best bedding sets that are comfy and cozy for your little one.
Nine Best Baby Bedding Sets
1. Disney Amazing Mickey Mouse 3 Piece Nursery Crib Bedding Set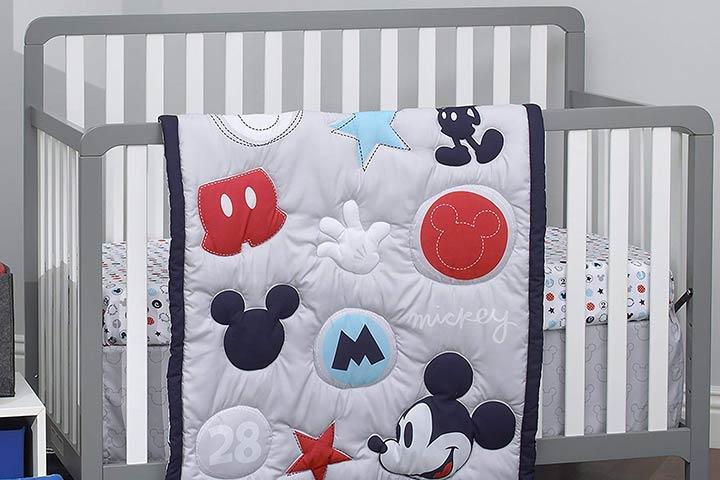 This Mickey Mouse-themed Disney baby bedding set can make your toddler jump with excitement. This three-piece set comes with a crib sheet, a comforter, and a dust ruffle. It is made from 100% polyester microfiber, which is soft and makes it comfortable for the child to sleep.
Pros
Extremely soft and comfortable
Available in five different shades and multiple themes
Set is designed to fit any standard size crib mattress
Cons
Does not include a kids bumper
Not available in a smaller size
Frequent washing may fade off the color

2. Bedtime Originals Lavender Woods 3 Piece Bedding Set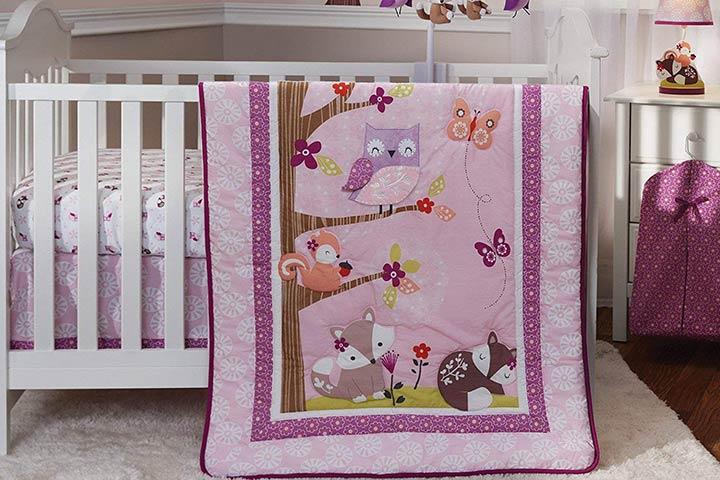 It is made from a blend of polyester and cotton. The three-piece bedding set offers you a quilt, fitted sheet, and a dust ruffle (also known as bed skirt). The quilt and the sheets have cute little owls printed on a lavender colored background. It makes for a quite playful theme.
Pros
Designed to fit any standard crib mattress
Adorable animal theme makes it stand out from other sets
Cons
Fabric may not be of the best quality
Lavender color may be too light and may make tend to show dirt prominently

3. Disney Baby Minnie Mouse All About Bows 4 Piece Nursery Crib Bedding Set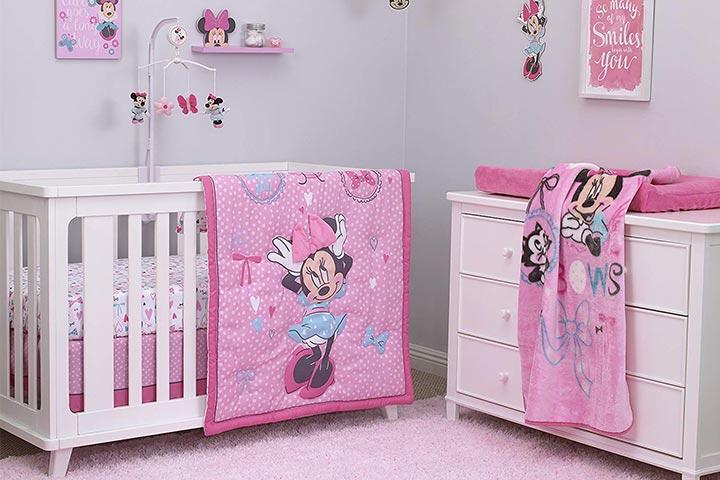 This baby bedding set comes consists of a comforter, dust ruffle, crib sheet, and also wall decor. There is a Minnie Mouse design all across the bedding set. The ready-to-hang wall decor is a cute little addition. If Minnie Mouse is your girl's favorite cartoon character, then you have just found the perfect bedding kit for her.
Pros
Available in four different colors
Contains illustration of Minnie Mouse, hearts, dots, and bows
Crib sheets fit well for any standard crib mattress
Affordable and of good quality
Cons
Color tends to fade after a few washes
Could rip easily at the seams

4. Carstens Real Tree AP Camo 3-Piece Crib Sheet Set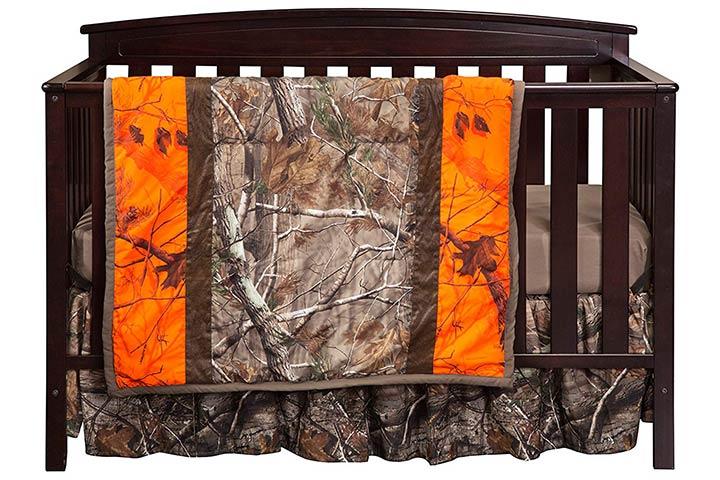 If you are looking for a bedding set that will give your child the feel of outdoor camping, then this real tree camo design set is just the right choice. This three-piece crib bedding set comes with a quilt, skirt, and fitted crib sheet. The camo print gives a feel of the forest, and your baby can enjoy this jungle-themed crib bedding.
Pros
Fabric is soft and comfortable
Comes in gender-neutral colors and design
Cons
Colors may slightly differ from those visible in images
Too pricey; could have been a better value for the money

5. Bedtime Originals Jungle Buddies 3 Piece Crib Bedding Set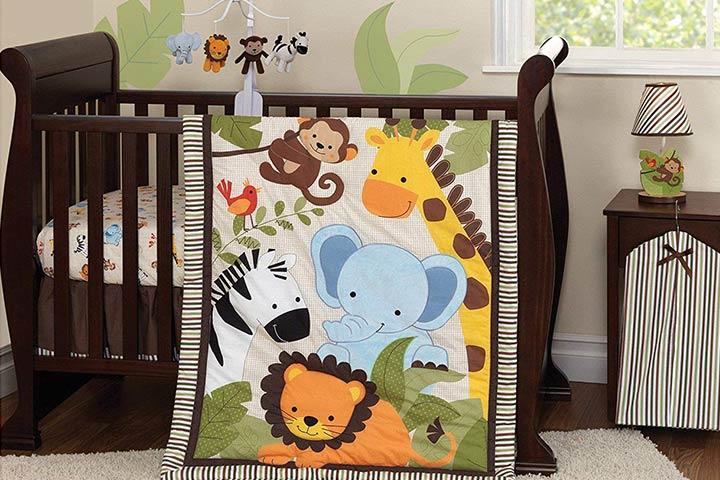 The bedding items in the set are made from a combination of cotton and polyester. You get a quilt, sheet, and dust ruffle in the set. The design is a print of adorable jungle animals along with an illustration of leaves. If your baby loves animals, then they will quite likely love this bedding set.
Pros
Fabric does not shrink or get discolored after washing
Perfect fit for a standard crib mattress
Gender-neutral theme colors
Cons
The quilt filling and blanket is 100% polyester which may not be comfortable for little kids
Blanket may be too thin for cold temperatures

6. Nojo 3 Piece Comforter Set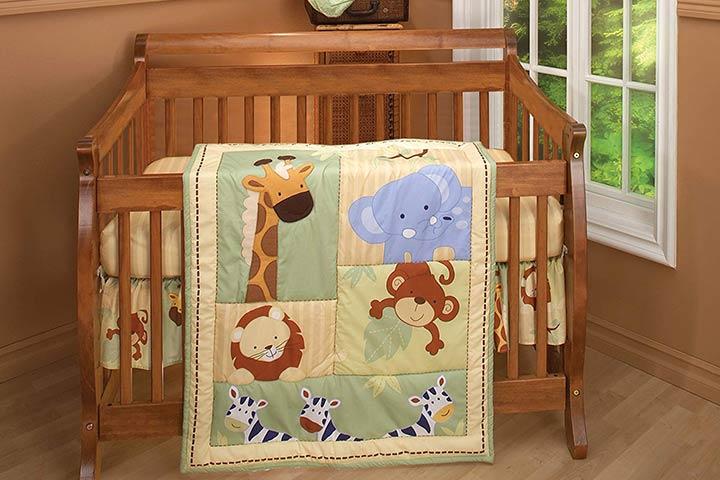 If your little one fancies safari animals, then you might want to take a look at this three-piece bedding crib. It is made from a combination of cotton and polyester. This baby bedding set is simple yet attractive and will be liked by your baby.
Pros:
Lightweight and easy to use
Fabric is soft and comfortable
Machine-washable and does not shrink
Colors do not fade easily
Cons:
Does not contain a baby bumper
Color shades may vary from the image

7. SoHo Baby Crib Bedding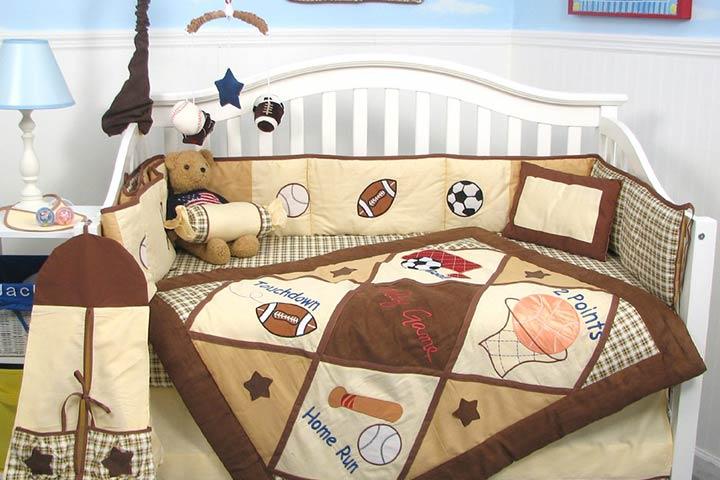 It is a ten-piece, complete bedding set for your child. All the items in the set are made from non-abrasive, hypoallergenic cotton, which is very comfortable. This budget-friendly set also offers you a bonus diaper bag and changing pad. It is available in gender-neutral colors, which makes for a good gifting option.
Pros
Color does not fade after washing
Comes with bonus items, namely a diaper bag with insulated bottle case, baby pillow, baby bib, and a toy bag
Bedding comes neatly packed in a storage bag
Cons
Sheet does not fit all kinds of mattresses
The baby bumper may not fit all cribs

8. Elephants Pink/Grey 10 Piece Crib Set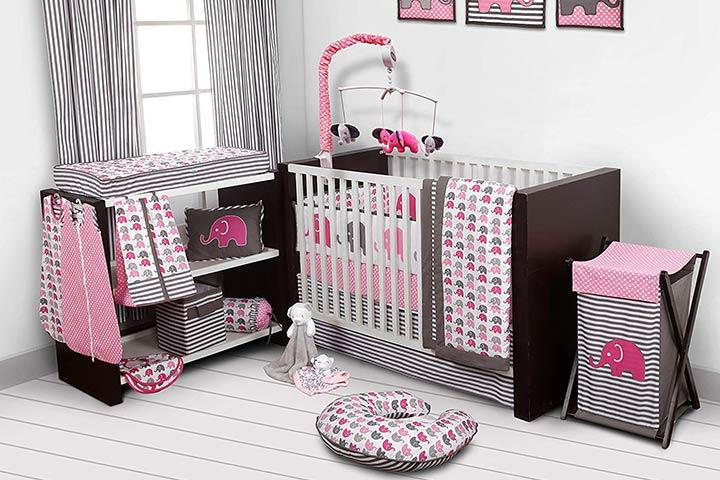 A pretty, pink and grey-colored elephant print makes quite an interesting baby bedding theme. This bedding set is made from 100% cotton. The filling of the comforter is made from 100% polyester, which makes it soft and comfortable. This is a 10-piece set that includes all the essentials for a regular crib setting.
Pros:
Easily washable in the machine
Available in attractive print and vibrant color themes
The fabric is percale, which is a closely-knit, premium weave
It comes with a baby mobile
Cons:
Bumpers and bed skirts may not fit all cribs
Music box on the mobile does not work

9. Nursery Crib Bedding Set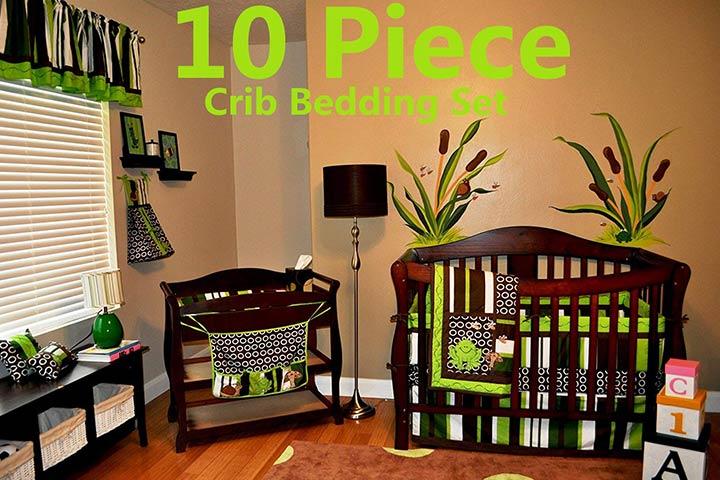 It is a 10-piece set consisting of all the essential must-haves in a complete set. You get everything in the pack; right from a comforter to a baby bumper. The bedding comes with embroidered details, and the fabric is 100% cotton, which is gentle on the baby's skin.
Pros:
It contains an assortment of fun colors, namely green, brown, lime green, and white
All pieces have design and color coordination
Cons:
Product finishing is not good
Bumper does not fit all kinds of cribs

A good baby bedding set is essential for your child to sleep well and stay healthy. The bedding set also has a functional use, which is to safeguard the mattress from moisture, mites, and dust. Parents can easily maintain crib sheets through regular cleaning so that the baby can sleep in a hygienic environment.
Do you use bedding sets for your baby? You may share your experience with us in the comment section below.
Disclaimer: MomJunction may earn a commission when products are purchased through affiliate links given in the article. However, this partnership does not influence the editorial content featuring in our list.
Reference:
Was this information helpful?
The following two tabs change content below.