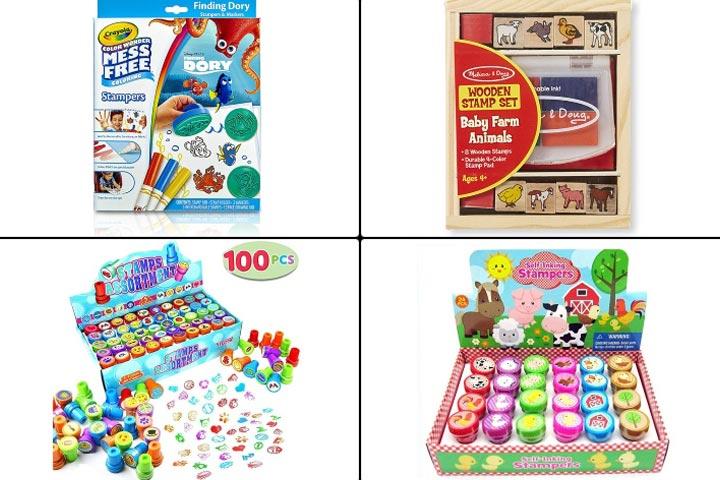 Stamp sets are a great way to introduce your child to the world of storytelling. Not only are they affordable and fun to play with, but stamp sets also help in developing your child's fine motor skills and hand-eye coordination. They come in all sorts of shapes, sizes, colors, and designs so that your little never runs out of options to choose the perfect stamp set to play with. While most of these sets are safe for kids of all ages, some sets include small parts that can cause choking hazards in kids below the age of 3. In this MomJunction post, we have curated a list of the 15 best stamps for kids.
15 Best Stamp Set For Kids
1. Melissa & Doug Deluxe Wooden Stamp Set ABCs 123s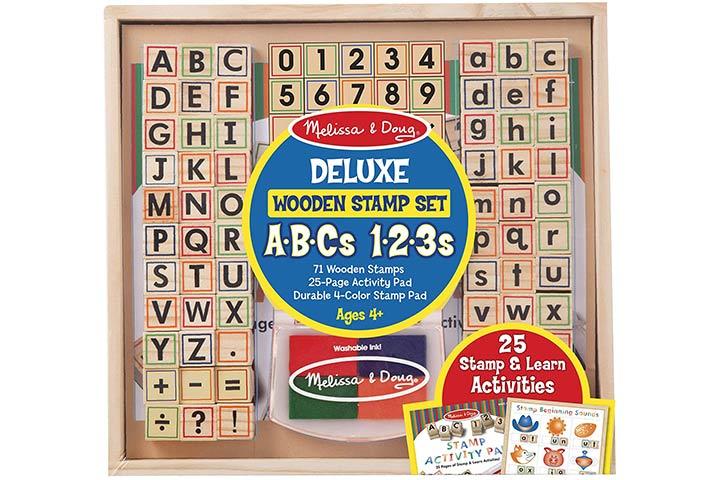 What better way to teach your child about alphabets and numbers than by using these letter stamps? This 71 piece set will help your kid learn about numbers, vowels, punctuation marks, and much more. The stamps are made with high-quality rubber and have contoured wooden handles. It enhances their fine motor skills and creativity and allows for solo playtime. A 25-page activity booklet is also included in the set to help them explore the various possibilities with stamps. It is recommended for kids aged 4 to 6.
2. Art With Smile Wooden Stamp Kit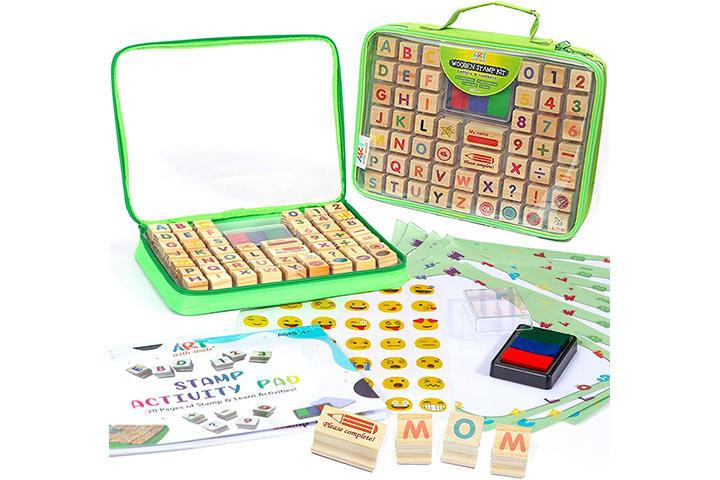 Next on our list of the best stamp sets for kids is the wooden stamp kit from Art With Smile. It comes in a convenient carrying case that is travel-friendly and you won't ever have to worry about the stamps being lost as each stamp has a designated place in the case. The set consists of 69 pieces with numbers, letters, punctuation marks, Math symbols, and emojis. This stamp set for kids also comes with a 20-page activity pad with educational exercises and interesting games. It is recommended for kids around the age of 4. 
3. Melissa & Doug Happy Handles Wooden Stamp Set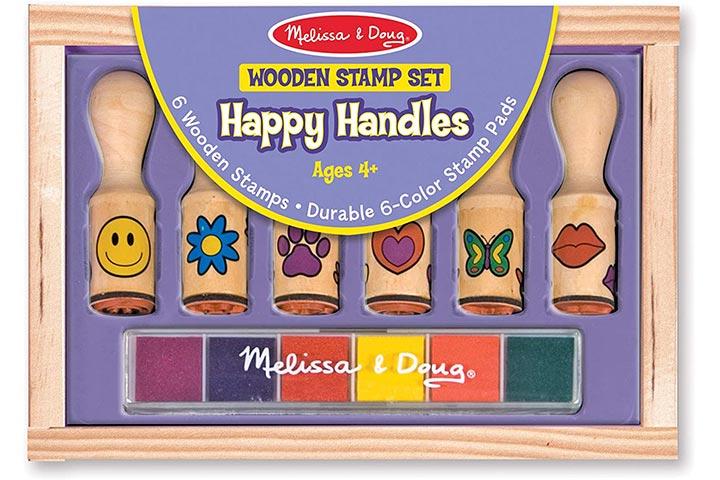 Finding the best stamp set for kids is never easy when you've got a plethora of options. However, this stamp set will be fun not just for kids, but us adults as well. Packed with 6 washable wooden handles with rubber stamps, the varied color ink pad (kid-friendly) will grab your little one's attention. Your child can now have fun and improve his/her fine motor skills, all at the same time! This stamp set is a great gift for kids aged 4 and up.
4. Joyin 100 Piece Stamps Assortment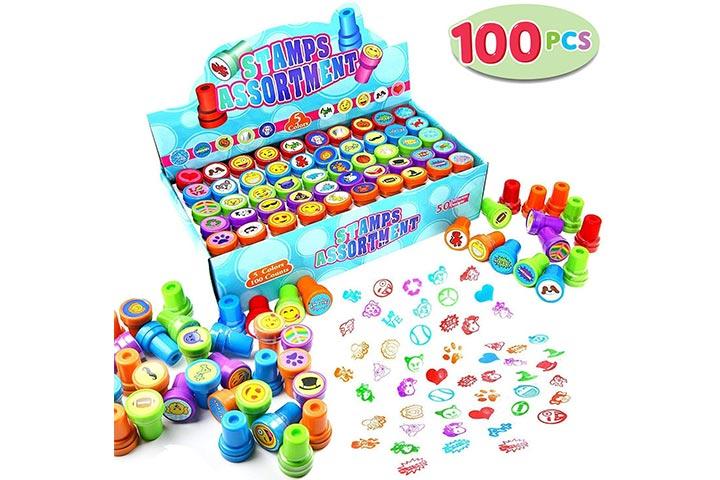 Confused about finding that perfect stamp kit for your bundle of joy? Surprise them with this assorted stamp set from Joyin which has over 99 pieces of stampers. This stamp set for kids is sure to spark their curiosity and imagination with each stamper featuring a unique design of superheroes, dogs, sea life, emojis and many more. The stamps are already pre-inked which eliminates the need for a separate ink pad. This stamp kit can be used by kids as young as 3 years and up.
5. Hapinest Unicorn and Friends Stamp and Sticker Set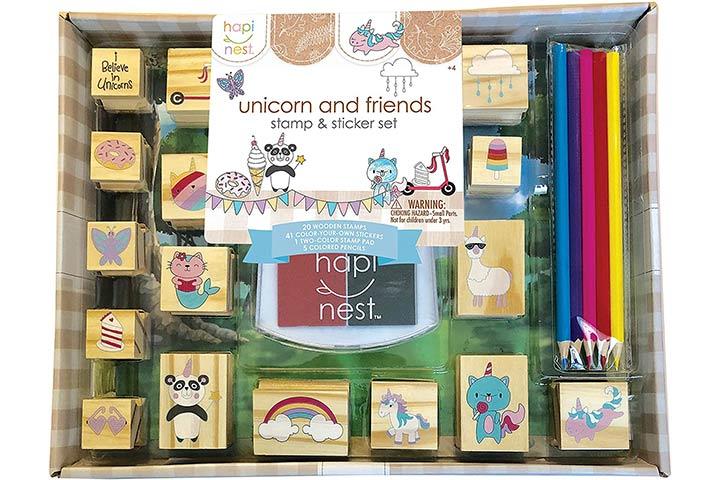 Kids find happiness in little things. And sometimes all it takes are colorful unicorns and llamas for them to have some fun. This stamp set for kids consists of 20 wooden stamps and a stamp pad of two colors. The 5 color pencils and sticker sets also allow them to stamp, create, and color to begin their own adventure with the set. This stamp set would make for a fun time for kids around the age of 4 and above for birthday parties and art projects.
6. Melissa & Doug Baby Farm Animals Wooden Stamp Set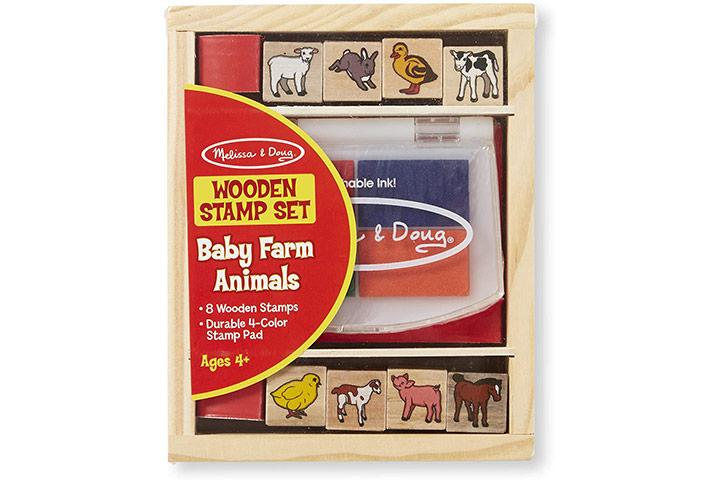 Kids love farm animals and these cute little farm babies from Melissa & Doug are sure to steal their heart in a jiffy. This stamp set for kids includes an assortment of 8 wooden stamps and 4 brightly colored ink pads. With this set, your child will be familiarized with farm animals and improving their fine motor skills and creative expression. The set comes with washable ink as well. Caution: It is not recommended for kids below the age of 3 due to choking hazard.
7. Stamp mojis Smartphone-free Emoji Fun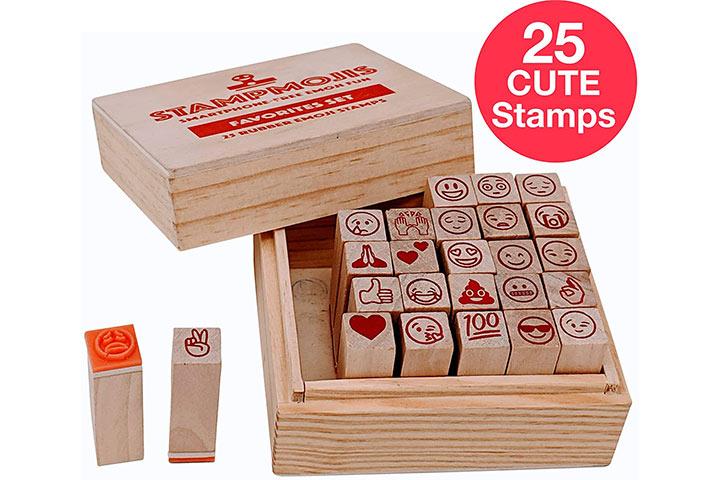 Emojis are always fun and a favorite among many, making this one of the best stamp sets  for kids. The set includes 25 handpicked wooden emojis with rubber stamps. The set comes with the most popular emojis such as poo, crying eyes, heart eyes, blowing kiss, and the peace sign. This stamps come in small sizes that make it perfect to add in scrapbook, journal or handwritten notes. The set does not include an ink pad but has an option to add a 4 color inkpad while purchasing it.
8. Lucky bird Self Inking Princess Themed Plastic Stamps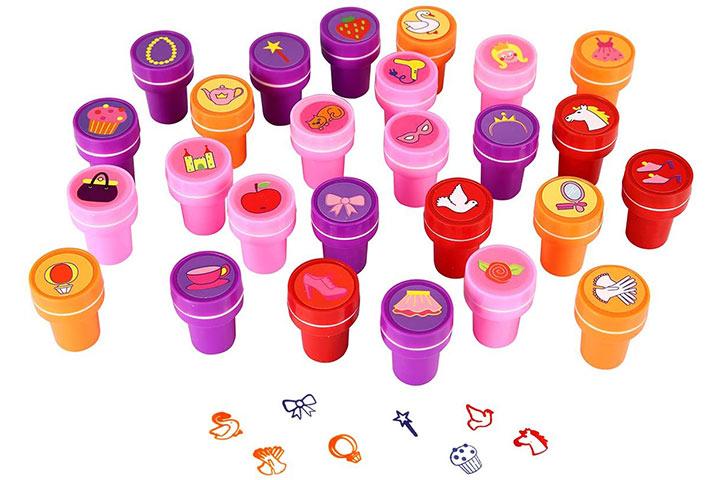 Tired of searching for the best stamp set for kids? If your little one fancies princess-themed toys, then this set is for you. This self-inking stamp set from Lucky bird comes with 26 pieces of colorful and interesting stampers in 4 bright colors. From the castle, crown, and princess shoes to cupcake, rose, and cat, your kid will never be out of options with this set. If you find the self-inking stamps to have dried out after a while, adding some water drops to the stampers will do the trick. The sharp impressions of the stamp don't blur or smear.
9. Tiny Mills Barnyard Farm Animals Self Inking Stampers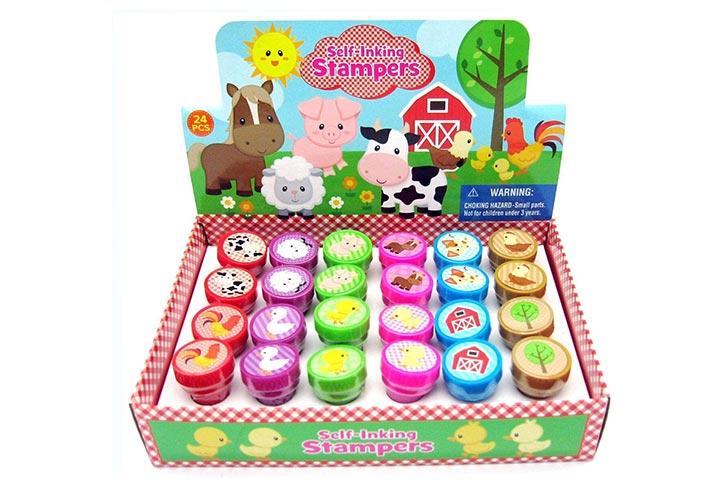 With 24 pieces of barnyard farm animals, the Self Inking Stampers from Tiny Mills is one of the best stamp sets for your animal lover. The stampers are pre-inked so you won't be needing an additional ink pad. They are great for arts and crafts activities at home and school and even as treasure box fillers. Each stamper is of the perfect size-1.5-inches tall with a 1-inch diameter.
Caution: This set is not for kids below the age of three years because of choking hazards.
10. Fun Express Passport Stampers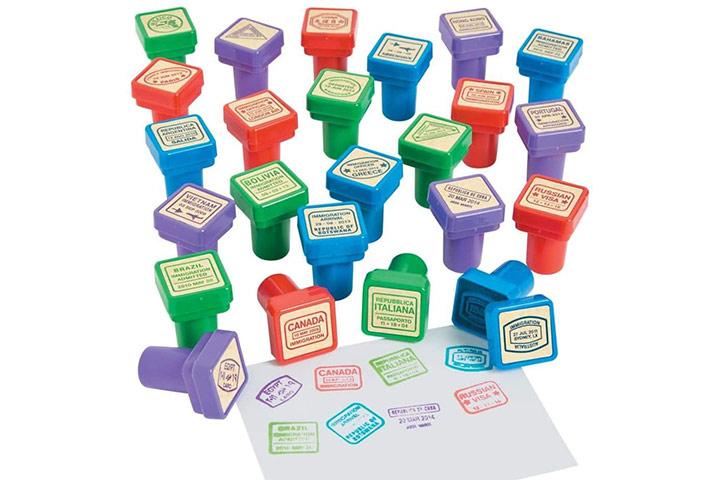 If you've got a little explorer at home, your quest for the best stamp set for kids ends here. With this stamp set, your kid is sure to learn a little geography, about various countries and states. The set includes 24 pieces of passport stampers that are safe and non-toxic. However, the small parts can cause choking hazards for kids below the age of 3 years. You can also incorporate these stamps while creating DIY learning projects about places.
11. Joyin Christmas Stampers Set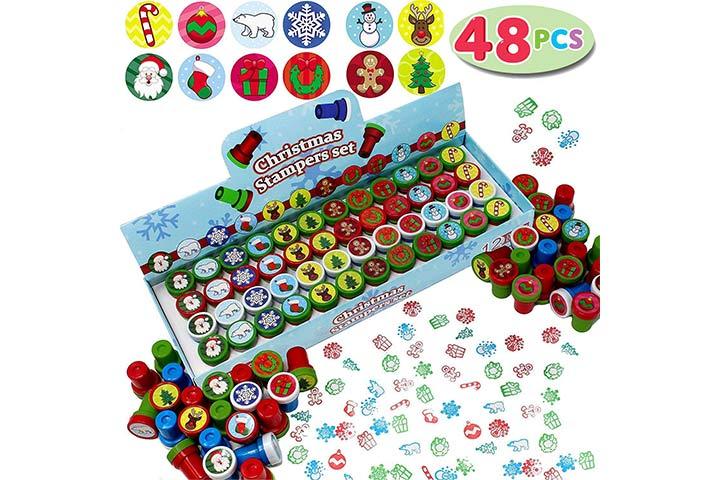 Next on our list of the best stamps for kids is the Joyin Christmas Stampers Set.
The stamp set includes an assortment of 48 pieces with 12 different designs. The pieces come in three different Christmassy colors and include designs such as snowflake, reindeer, candy cane, and polar bear. The pieces are compliant with US toy standards and safety test approved. With a variety of designs to choose from, they would make great party favor and Christmas goodies.
12. Fun Express Holiday Stampers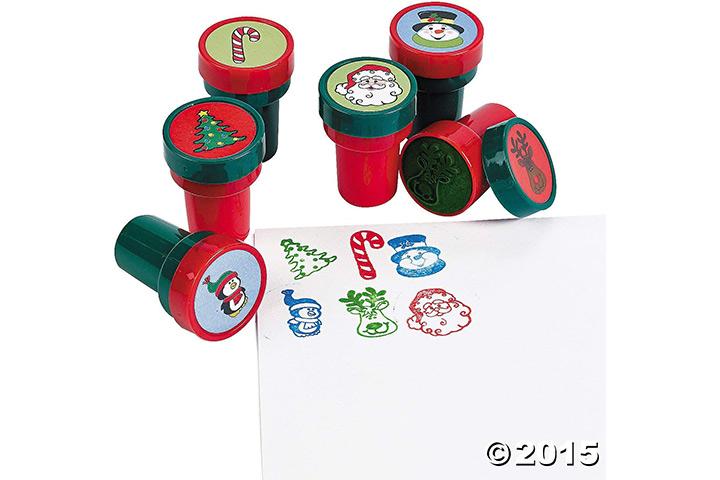 These Holiday Stampers will make the perfect addition for Christmas accessories and stocking stuffers. The 24 piece set includes 6 different stampers of 4 sets. The plastic stampers are made of safe and non-toxic material. They can add holiday cheer to your cards and stationery. The small parts can cause choking hazards and are not recommended for kids below the age of 3 years.
13. Crayola Color Wonder Finding Dory Mess Free Stampers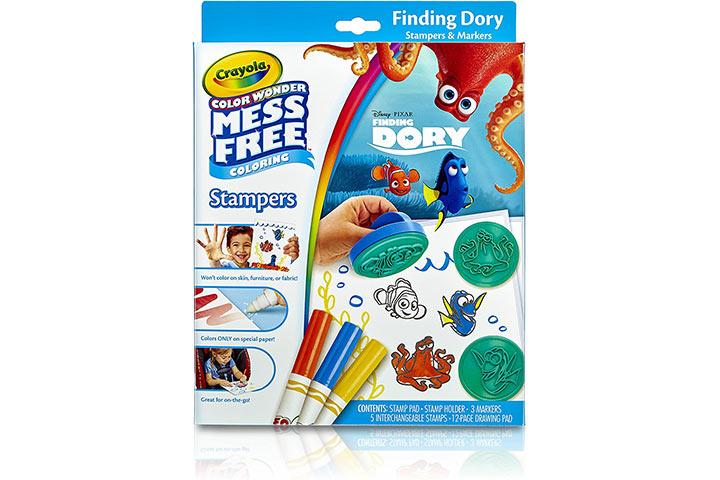 The Color Wonder Mess Free Stampers from Crayola cleverly incorporates characters from our favorite Disney Pixar movie. The set consists of 5 different stamps, a stamp holder, and a stamp pad. The mess-free ink won't stain any fabric or furniture and appear colorless even on skin. The set also includes a 12-page drawing pad and 3 markers of red, blue, and yellow color. The set is best recommended for kids between the ages of 3 to 5.
14. Baker Ross Snowflake Self-Inking Stampers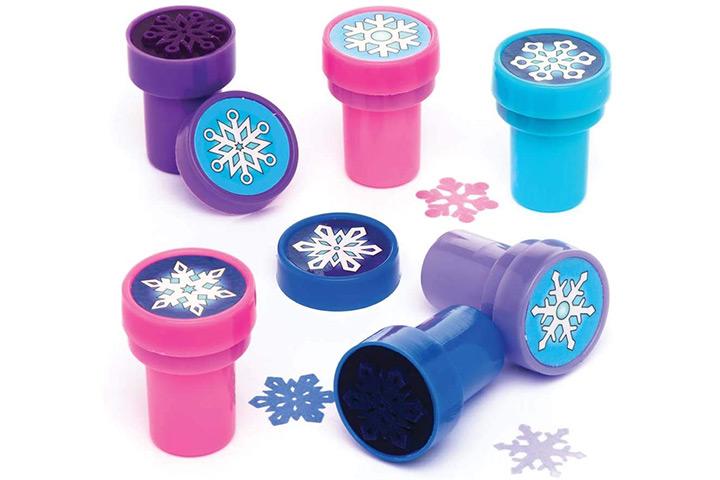 One of the best stamps for kids, the Baker Ross Snowflake Self-Inking Stampers comes with a pack of 10 unique snowflake designs. The stamps are self-inking and can be directly printed on Christmas cards and DIY greetings. The stamps come in four different colors – pink, purple, light blue, and dark blue. They can be easily held by your little ones and improve their dexterity and hand-eye coordination. The snowflake stampers make for the perfect gift for kids around the age of 3 years and above.
15. To bar Animal Mini Stamp Set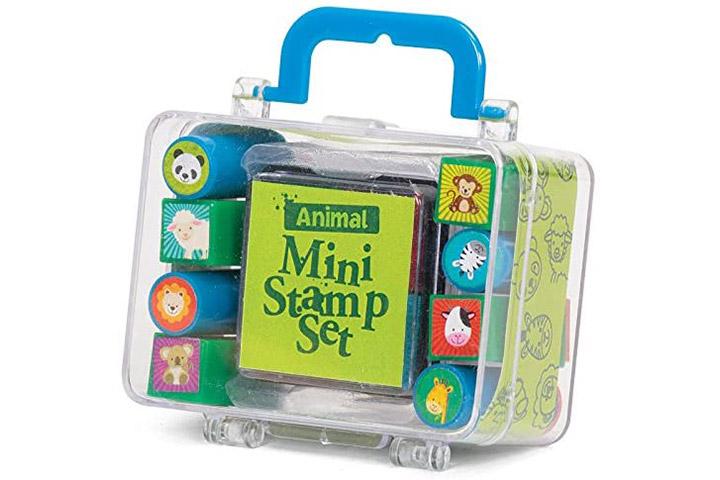 This stamp set for kids comes in a cute, tiny plastic briefcase. The set includes 8 rubber stamps and a washable ink pad. The stampers feature animals such as panda, sheep, giraffe, and monkey. The ink pad consists of 4 different colors. With this set, there's no worry about losing any stamp as each piece can be neatly arranged back into the case. 
With 15 different sets to pick from, we know it can be confusing to go for that one product that will be perfect for your child. Here are a few things to look out for that will make your job easier. 
How To Choose The Best Stamp Set For Kids?
There's no right or wrong way to choose a stamp kit for your child. But here are a few tips that might do the trick:
Look for the recommended age for the product is probably the best way to start.
Check the features to decide if you want a set with a self-inking stamper or one with an ink pad.
Certain sets also offer stickers and activity pads that allow your child to explore the set even better.
If you want as little mess as possible after the activity, we would recommend going for a self-inking stamper or one which features mess-free colors and paints.
So, there you go! These are our picks of the 15 best stamps for kids. Whether your child loves Disney characters, animals, or holidays or if you are simply hoping to teach them numbers and letters, we hope you have found the set for your child. Which one did you like best from this list? Do let us know in the comments below!
Was this information helpful?