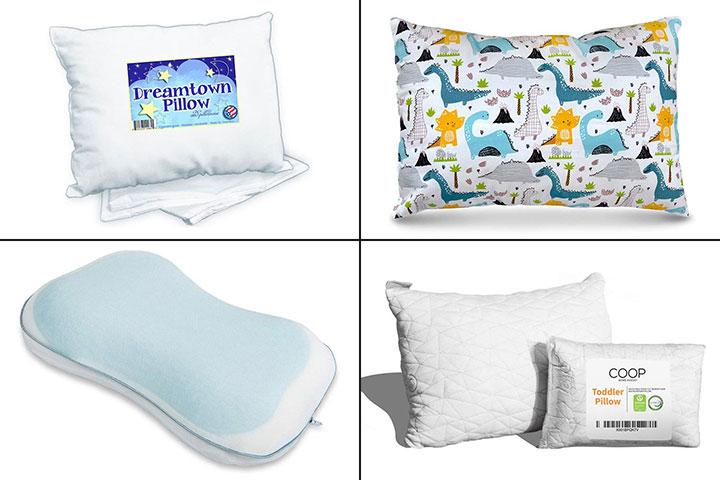 A good, soft, and fluffy pillow gives you a good night's sleep. The pillow plays a pivotal role in providing comfort while sleeping, as the child gets older. A regular adult-sized pillow may not always suit a child since it can be large for the child's bed. For this reason, it is good to pick pillows, especially made for kids.
In this MomJunction post, we have created a list of 17 best pillows for kids to have a comfortable sleeping environment.
17 Best Pillows for Kids To Buy In 2020
1. Mkicesky Toddler Memory Foam Contour Pillow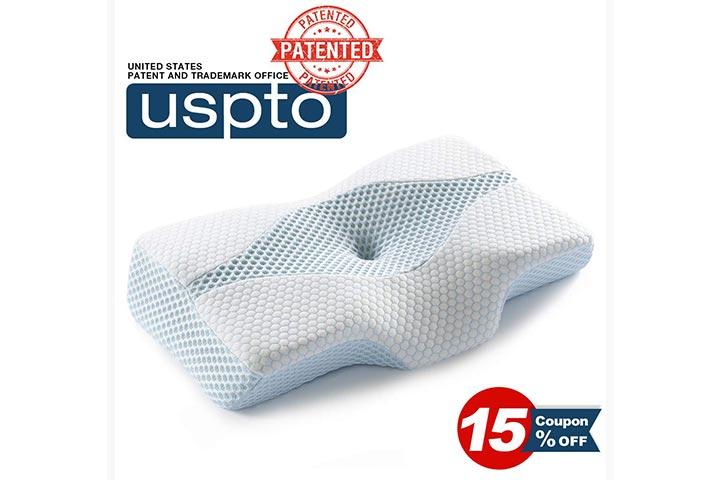 The Mkicesky Toddler Pillow is made up of memory foam and gives your kid a good night's sleep, along with comfort. The breathable fabric and supportive memory foam core provide the ultimate comfort for your little one so that they can have a night of uninterrupted sleep.
Pros 
The toddler pillow offers the right security to your child to feel safe, especially when on the go.
The super-responsive memory foam is designed to adjust to every movement of your child.
It also helps relieve various pressure points to improve blood circulation.
It has got a removable and washable pillowcase made of organic fabric that is velvety soft.
Cons
The memory foam of the pillow is not machine washable.
The pillow might come across excessively stuffed.
2. Dreamtown Kids Toddler Pillow with Pillowcase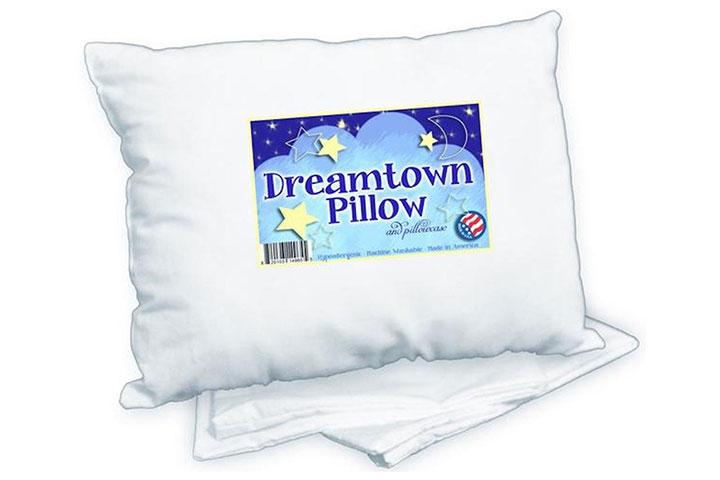 There is a Dreamtown Kids pillow for every budget and every fabric. With two amazing size options, you can choose the one right for your kid. The dense polyester fiber filling of the pillows resist flattening and provide extra support for healthy posture. Also, Dreamtown Kids pillows are mold and mildew resistant.
Pros
This pillow comes in all sizes and fabrics to accommodate both toddlers and big kids.
Every pillow is designed in consultation with a chiropractor.
It can be machine washed and dried easily.
All these pillows are hypoallergenic, mildew-resistant, and mold-resistant, to protect your child from harmful effects.
Cons
For some young children, the Dreamtown Kids pillows could be too fluffy and thick to be comfortable at first.
The pillow might get flat with use and lose its fluffiness.
The polyester cover of the pillow might be rough.
3. Aisawate Soft Organic Cotton Kids Pillow with Pillowcase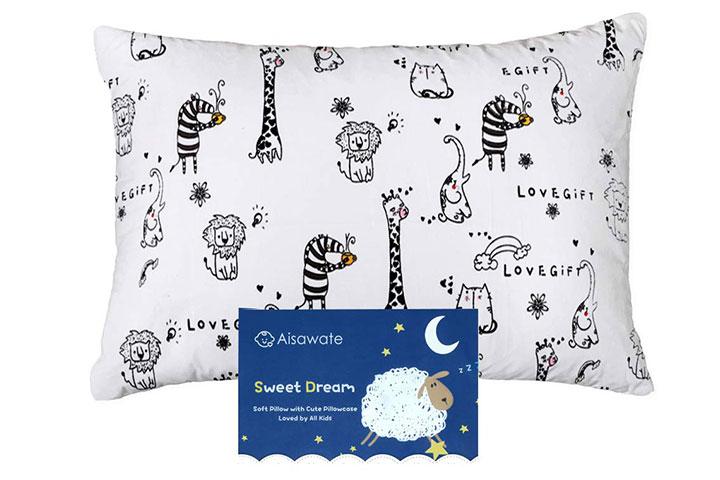 This soft organic cotton toddler pillow comes with a pillowcase that sets it apart from other pillowcase patterns in the market. This pillowcase pattern is unique in its design as it adopts an anthropomorphic animal image and a vivid design concept to give you or your kids a good night's sleep.
Pros
These pillows are 100% certified cotton pillowcases.
The Aisawate Toddler Pillow provides spinal support.
The quality sewing process ensures durability and long usage
The pillow doesn't shrink after multiple usages.
Cons
The pillowcase may be rough on sensitive skin.
The pillow might seem overstuffed for some kids to sleep.
4. TillYou Egyptian Cotton Toddler Pillow with a Pillowcase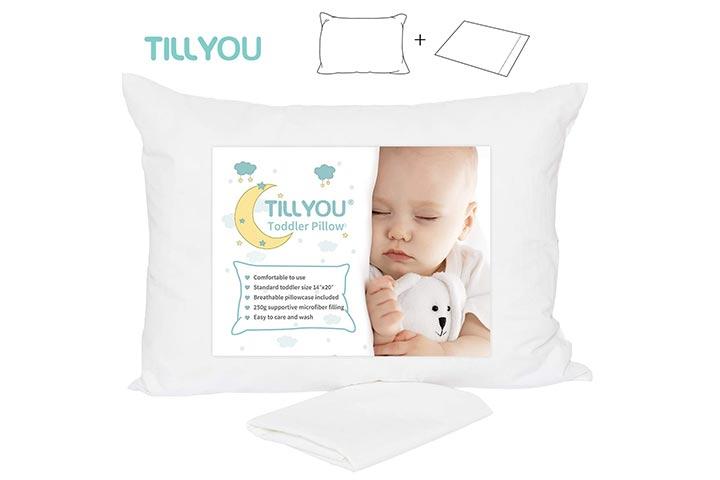 This versatile pillow can be used for toddlers and for older children as well. Plus, these pillows provide extra comfort if you are a back sleeper or a side sleeper. The hypoallergenic material used to make these pillows make it breathable and gentle to your kid's soft skin.
Pros
This toddler pillow is durable and breathable.
The zipper-free design prevents any risk of choking hazards and suffocation.
It also includes one pillowcase so that the pillow doesn't fall apart.
The pillowcase can be machine-washed and dried. You can also wipe clean it.
Cons
The pillowcase is machine washable, but the pillow is not. It can be cleaned with a damp cloth.
You might find the pillow less fluffy.
5. PharMeDoc Toddler Pillow for Kids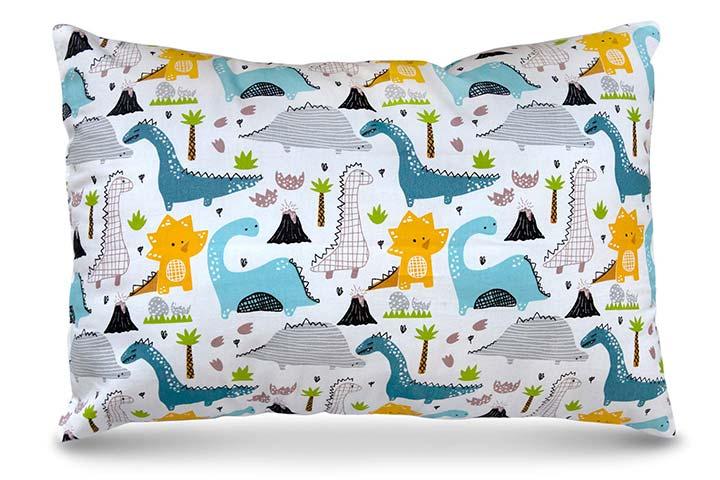 The small size of the pillow makes it the right choice while traveling. The pillow with a built-in safety cover is machine-washable. Despite its small size, the pillow provides support to the child.
Pros
This pillow is made up of soft, 100% cotton material.
The soft polyfill material keeps the pillow from flattening after continuous use.
The built-in non-removable pillow cover makes it safe from any suffocation hazards.
You don't need a pillowcase and still stays firm even after 400 machine washes.
Cons
The pillow might seem bulky for a toddler.
6. Urban Infant Pipsqueak Pillow with Name Tag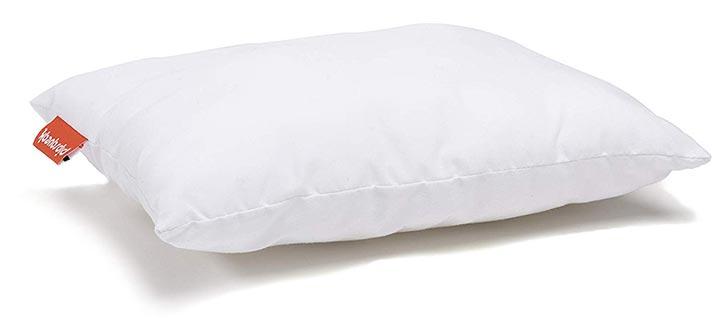 This small, tiny, or mini pillow is just the right one for younger children. It's a compact pillow for toddlers that can also be used at preschool or daycare. You can also use this pillow anywhere to provide back support and also use it as a headrest for the child.
Pros
This pillow is smaller than an airplane pillow.
It adds the right balance and provides perfect support to the neck and head.
It can also be used as a traveling pillow.
This tiny pillow is washable and has hypoallergenic cluster-fill.
Cons
The pillow might become less fluffy after continuous washing.
Might be small for an older child.
7. Little Sleepy Head Toddler Pillow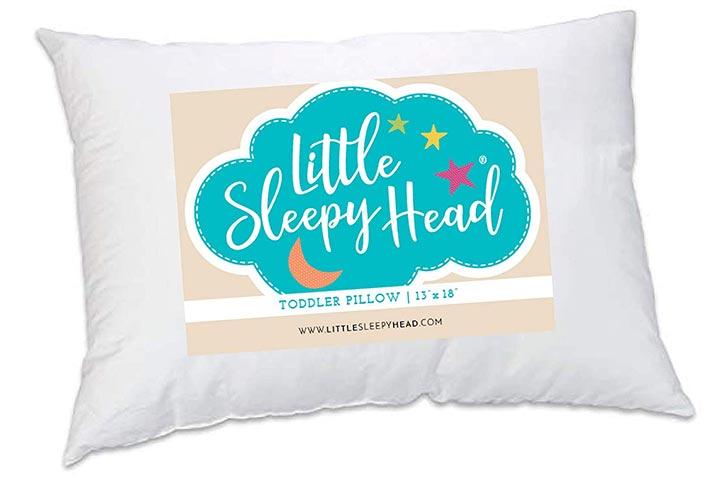 This pillow is ideal for your little one because it is cozy. It is 100% hypoallergenic and is also gentle on your child's skin. Plus, it is machine washable and can be fluffed up again.
Pros
This snug pillow is right for your toddler to carry it around wherever they go.
It is 100% hypoallergenic.
It is neither too fluffy nor too flat.
Cons
It does not come with a cover.
It could become lumpy after continuous use.
8. Snuggle-Pedic Toddler and Kids Pillow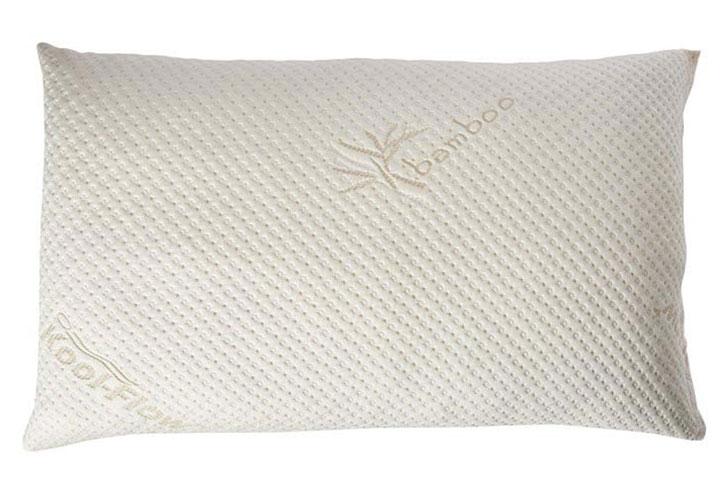 The Snuggle-Pedic toddler pillow needs no constant fluffing and holds its shape throughout the night. The good-quality shredded memory foam helps provide comfort and support to your children. The tiny memory foam pieces make it lighter and resilient than a regular pillow.
Pros 
The pillow self adjusts to your child's frame.
It is machine-washable.
It can be spread out to provide extra support for your neck, stomach, and back sleepers.
It is made from CertiPUR-US certified foam, which is environment-friendly.
This snug pillow is hypoallergenic and dust mite-resistant.
Cons
The pillow may be too high for toddlers.
You might sense a chemical smell.
9. Rest Cloud Toddler Pillow for Kids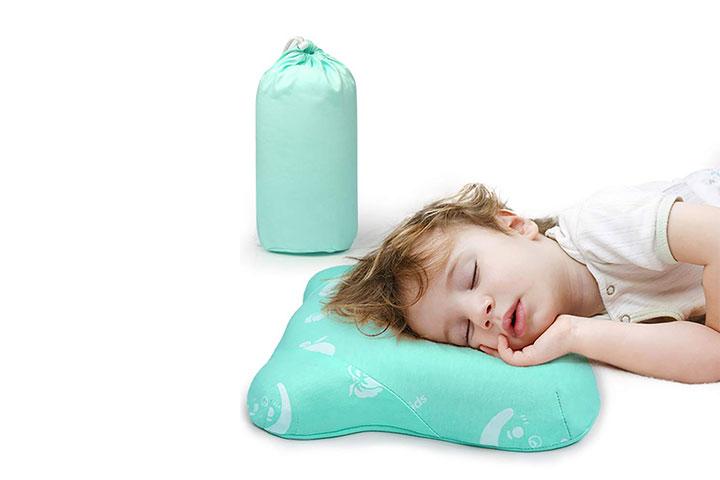 The toddler pillow is made of medium density memory foam that provides the right comfort and also provides support for healthy posture. It is soft to touch and provides swift recovery after deformation. This pillow is breathable, quickly dissipates heat, and gives a constant cool feel even in a humid and tropical environment.
Pros
The art variable pressure foaming technology helps the pillow to retain its shape even after continuous usage.
It also comes with a portable bag and a compressible design.
The pillow is hypoallergenic and chemical-free.
Cons
This pillow is a little smaller than a lot of buyers expected to be.
This pillow is not machine washable.
10. A Little Pillow Company's Eco-friendly Toddler Pillow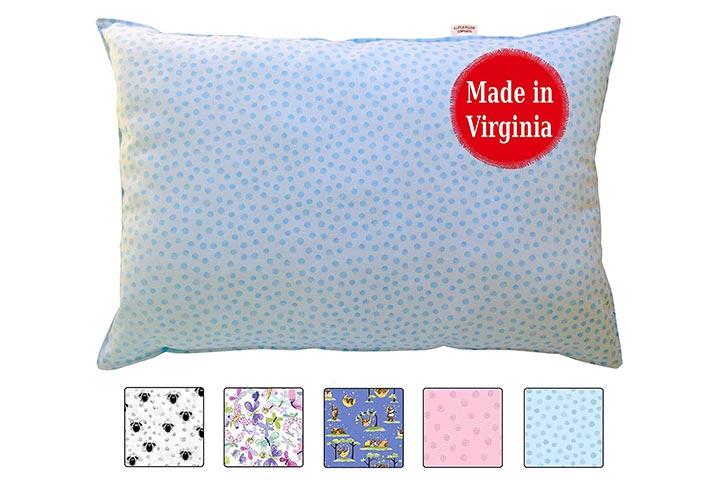 This eco-friendly pillow gives your young one the gift of a good night's sleep. It is specifically designed for toddlers of ages two to three years and provides the correct lift when your child needs it the most.
Pros
This pillow comes along with double stitched pillowcases to protect the machine-washable pillow.
This pillow provides the right support to your kid's physical frame as they grow up.
It is allergen-free and anti-wrinkle.
Cons
It may not be stuffy after repeated washing.
This pillow doesn't come with a removal pillowcase.
11. Wavve Memory Foam Baby Pillow with Pillowcase Cover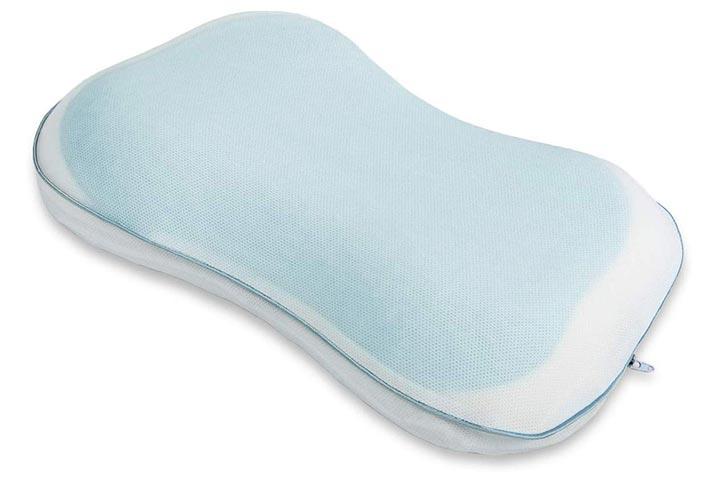 This toddler gel pillow from Wavve not only provides optimum support to your kid's posture but also helps to be cool and comfortable. The two-in-one contour feature gives you a choice to choose the contour. This pillow is bereft of any harmful chemicals.
Pros
The gel pillow helps disperse the kid's body heat to facilitate a longer and cooler sleep.
It has a two-in-one wave design that gives a choice between a higher and a lower contour.
The premium and soft memory foam keeps your head and neck well-supported.
Cons
Sometimes it might get cold for a child to sleep.
It can only be spot-cleaned.
12. Forliver Multifunctional Cartoon Travel Pillow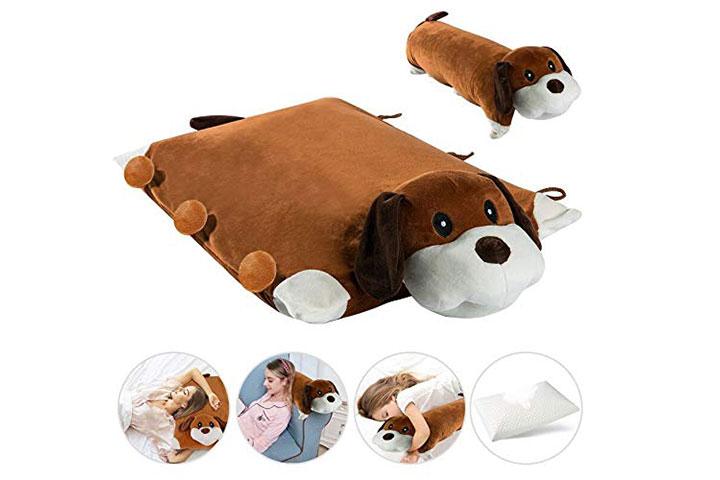 This multifunctional travel pillow can also be used as a neck pillow or just as an arm pillow.  Made of cotton, which makes it breathable and makes it easier for kids to sleep. The adorable shape of the pillow adds a little more fun and interest to the room.
Pros
This pillow can be transformed into four types, namely kids sleeping pillow, throw pillow, neck pillow, and an arm pillow.
The cute cotton pillow can add a dash of freshness and vitality to the look and feel of your home.
The breathable outer layer is made of cotton.
Cons
The pillow might seem fluffy.
It is not machine washable but can be spot-cleaned.
13. My Perfect Dreams Toddler Pillow With White Pillowcase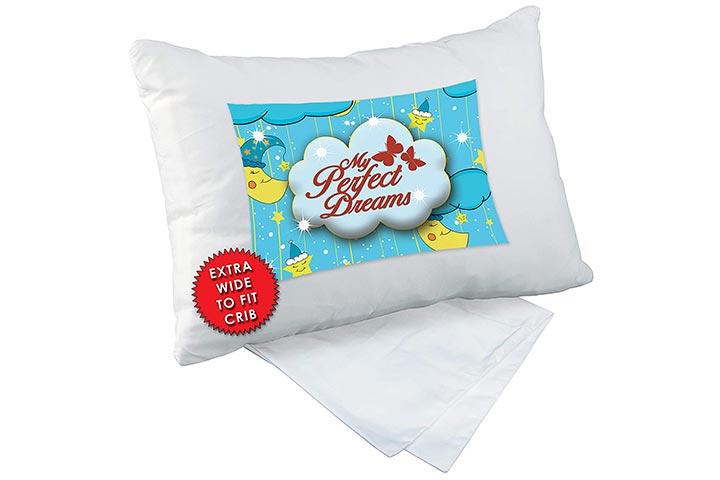 My Perfect Dreams Toddler Pillow is designed to provide proper neck and head alignment for your kids. It is not too fluffy and not too thin, but just the right filling for your child's healthy posture. It is also super soft as it is made up of 100% cotton, which helps your child to snuggle or curl up while sleeping.
Pros
The cotton pillowcase can be removed for easy cleaning.
The pillow is machine-washable.
It is hypoallergenic and dust mite-resistant.
Cons
The pillowcase might feel rough.
The size is smaller than expected.
14. KinderFluff Toddler And Travel Pillow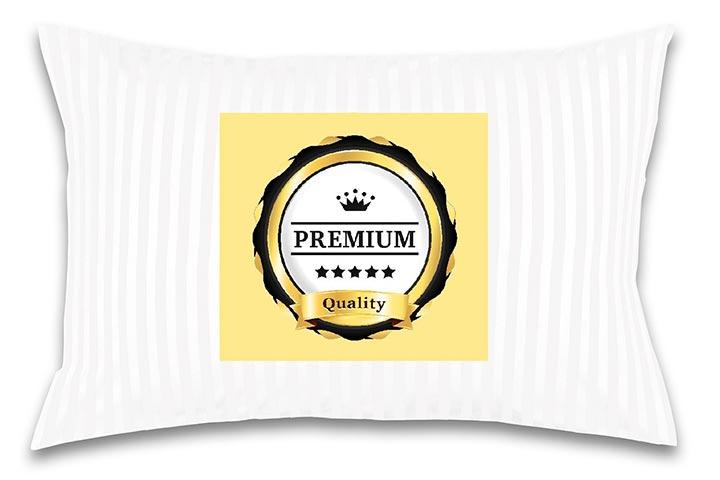 Does your toddler move a lot while sleeping throughout the night? Then, this is a suitable pillow for them. The compact size of the  pillow makes it ideal for kids aged two years and above since it provides apt head and neck support.
Pros
This pillow is filled with premium synthetic polyester cluster fiberfill that is covered by cotton to make the pillow breathable and comfortable.
It is machine-washable and lump-free.
You need not go for a separate pillow over, as the pillow shell is designed to serve that purpose.
It is a chiropractor-recommended toddler pillow.
The 300-thread count cotton pillowcase helps block impurities.
The cluster-fiber filling helps the pillow last long.
Cons
The seams of the pillow may not hold up well.
You might feel a chemical smell.
The filling tends to crumble over a period.
15. My Little North Star Toddler Pillow And Pillowcase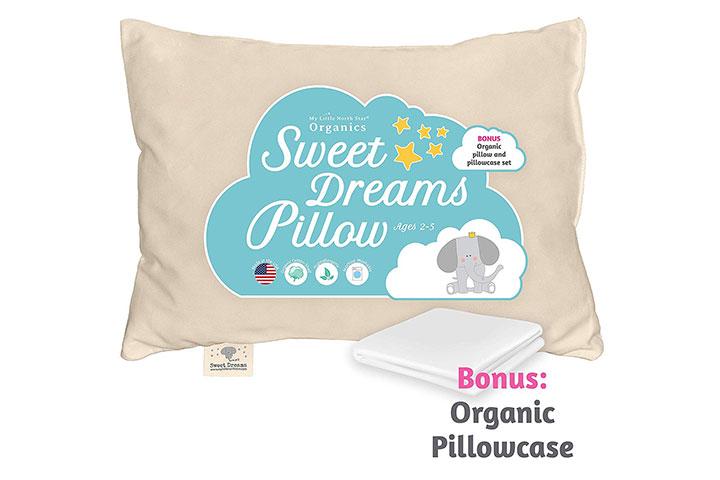 My Little North Star organic toddler pillow is hypoallergenic, breathable, and is designed for children between the ages of two and five years. The 100% organic cotton shell is soft and helps your child sleep comfortably. It is free from fungicides, pesticides, herbicides, or GMOs. It can be washed.
Pros:
The poly cluster fiber filling keeps allergies at bay.
It is made of eco-friendly materials.
It is super soft and helps your child have an uninterrupted sleep.
Cons:
The pillow might eventually lose its shape.
16. Coop Home Goods Toddler Pillow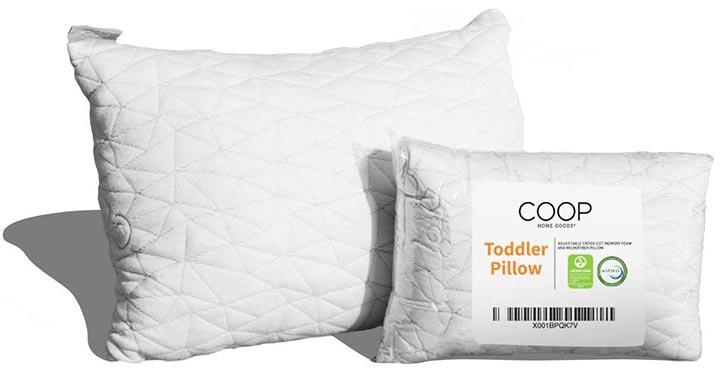 The memory foam filling in this pillow has undergone rigorous tests to ensure safety for your kid. Your child is quite likely to find this soft pillow comfortable.
Pros: 
You can add or remove memory foam fill to achieve the best support for your child.
These pillows are machine-washable.
Cons:
 It doesn't come with a pillow cover.
It gives out a chemical odor initially.
17. Butterfly Craze Kids Floor Pillow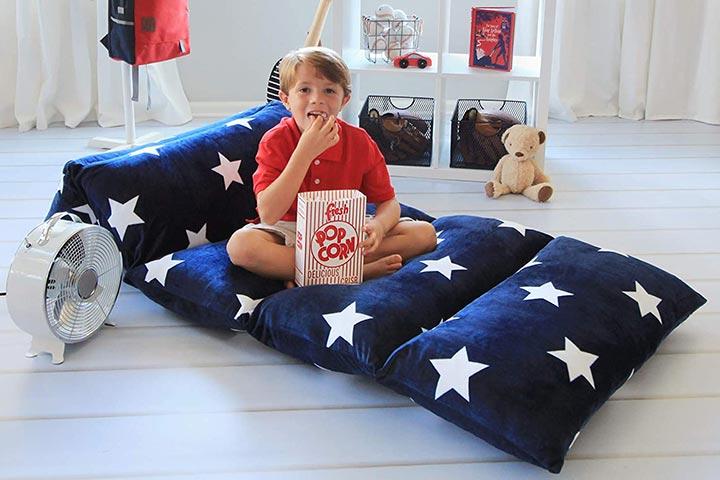 This butterfly craze floor pillow is perfect for taking naps, unwinding, or just as the hang-out spot for the whole family. You can avail the covers in any size: king or queen size. The covers are fade-resistant.
Pros
This floor pillow is made up of super-s-oft premium fabric.
It is more comfortable than an inflatable bed or air mattress.
This floor pillow is perfect for camping, travel, vacation, etc.
It folds easily into a floor lounger seat and can just lay it flat for any activities.
You can machine-wash in cold water.
Cons:
The floor pillow tends to lose shape over time.
Why Should A Child Have A Good Pillow?
A good pillow can help.
Prevent neck aches while your kid is sleeping.
Offer the right support.
Prevent fatigue.
Encourage better sleeping habits.
Features To Consider While Buying Pillows For Kids
Before making a purchase, consider these points.
Sleeping position: Your kids preferred sleeping position determines the kind of pillow they need. So, before you buy one, do talk to them.
Pillow sizes: The three most common pillow sizes are queen king and standard. There can also be intermediary sizes, so do check before making a purchase.
Pillow filling: Pillow filling makes a crucial difference in how the pillow holds up over time after continuous use. The type of filling also plays a significant role in supporting the head and neck.
Specialty pillows: Specialty pillows are known to relieve particular pressure points.
Frequently Asked Questions
At what age should I allow my kids to use the pillow?
It is safe to introduce pillows to your baby at the age of 18 months. However, some parents wait until their child is over two or three years old.
Can pillows cause neck pain in children?
Pillows with excessive stuffing and those with little stuffing might hurt your kid's neck.
Nothing is important than a comfortable night's sleep. That's why it is imperative to choose the right pillow for your kids. This list of pillows helps you identify the best pillow for your kids and make the right choice.
Which pillow from the list did you like? Let us know in the comment section below.
Disclaimer: MomJunction may earn a commission when products are purchased through affiliate links given in the article. However, this partnership does not influence the editorial content featuring in our list.