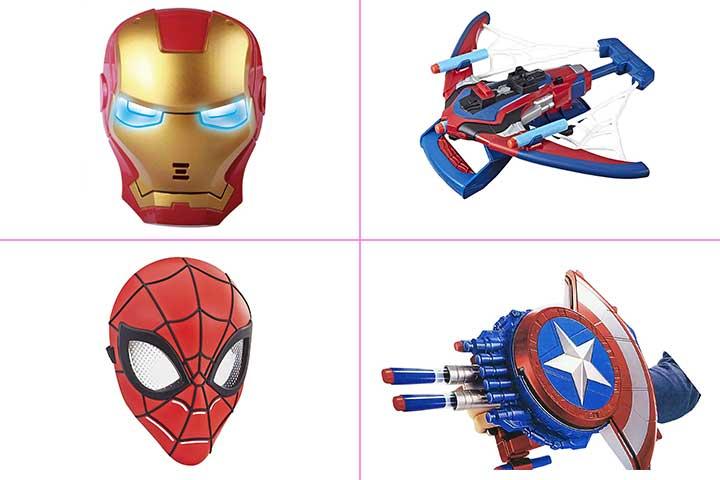 Reveling in the Marvel universe, amongst superheroes, is the dream of every member of this humongous fandom. And to live this, kids enthusiastically buy collectibles and figurines of their favorite characters. It helps them establish a connection with the Marvel universe.
If your child or even you are an ardent follower of everything Marvel, then MomJunction has something for the both of you. Here is our list of some of the coolest Marvel toys that you can add to your collection.
24 Best Marvel Toys
1. Marvel Avengers Legends Series – Proxima Midnight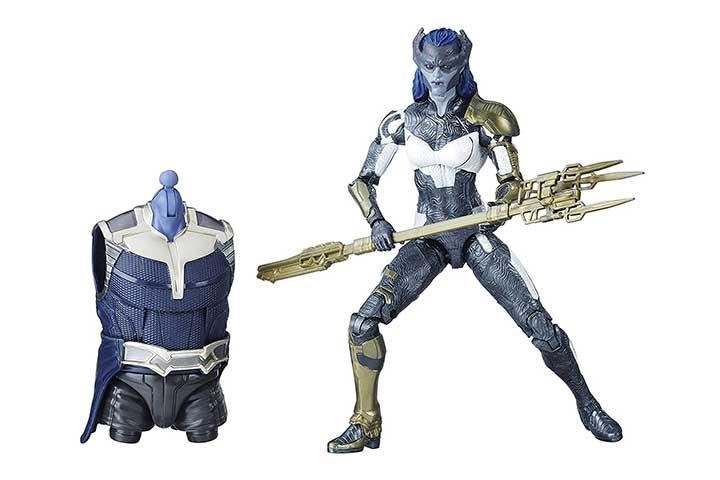 For your heroes to be superheroes, there needs to be a supervillain. And here is Proxima Midnight, the alien lieutenant of the Black Order who works for Thanos. Designed exactly like the fictional character, this six-inch blue figure comes with a spear that she uses to fight her enemies. The toy has a flexible body with bent limbs to help the character take a stance in a fight. It is suitable for kids aged four years and above.
2. Thanos Gauntlet Glove with Music & Led Lights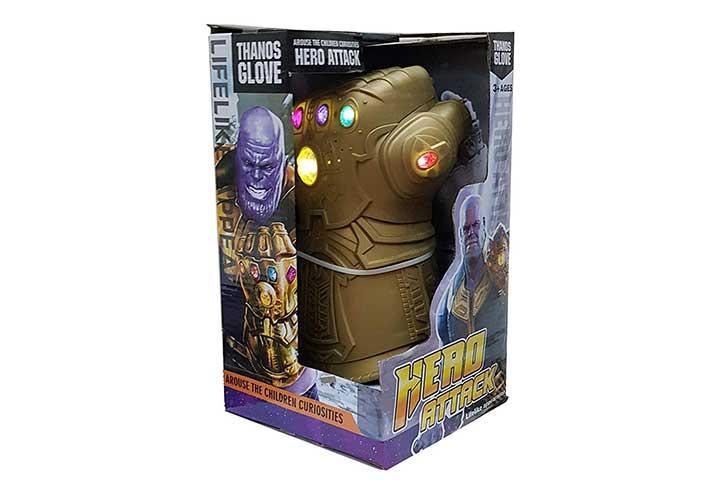 The Avengers set is incomplete without the Thanos Gauntlet Glove. Built like that shown in the Infinity War movie, this glove comes with six colorful diamonds that light up at the touch of the central diamond. It comes with batteries installed. Its large size makes it a cool showpiece so your family and friends can see that you have what the Avengers were after. It is suitable for kids aged three years and above.
3. Vikas Gift Gallery Superhero Toys Set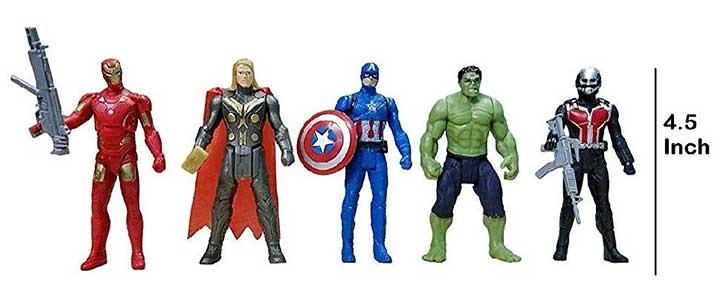 Here is the team of Avengers in one set. Each figure is 4.5in tall and looks like the real action figures. It includes Iron Man, Thor, Captain America, Hulk, and Ant Man. These are plastic collectibles and are easy to play with. Their limbs are flexible, so your child can move them any way they like to make their superheroes save the day yet again.
4. Halo Nation Legends Avengers Action Figures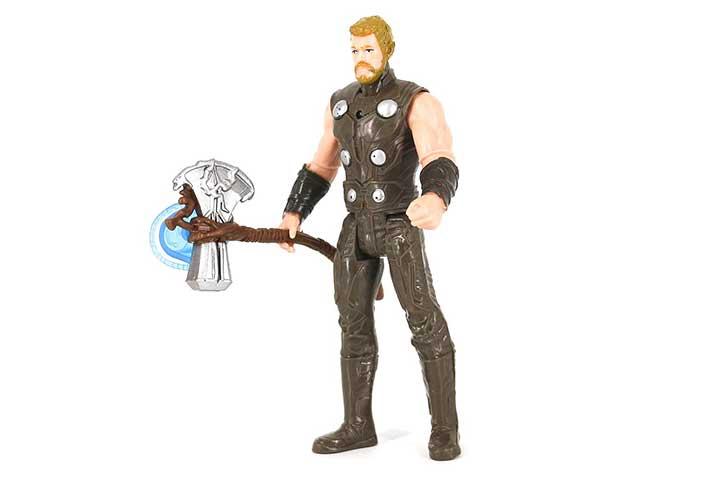 Here is a set that contains figurines of most Avenger heroes. You can buy them individually or as a whole set. You could choose from figurines of Hulk, Thanos, Iron Man, Spider Man, Captain America, Captain Marvel, Doctor Strange, Rocket Raccoon, Thor, and Black Panther. Each of these characters comes with LED lights that light up at the press of a button. Kids can write their own Avenger stories and give their favorite character the responsibility of killing Thanos. It is suitable for kids aged three years and above.
5. Super Hero Adventures Marvel Mega Mighties Iron Man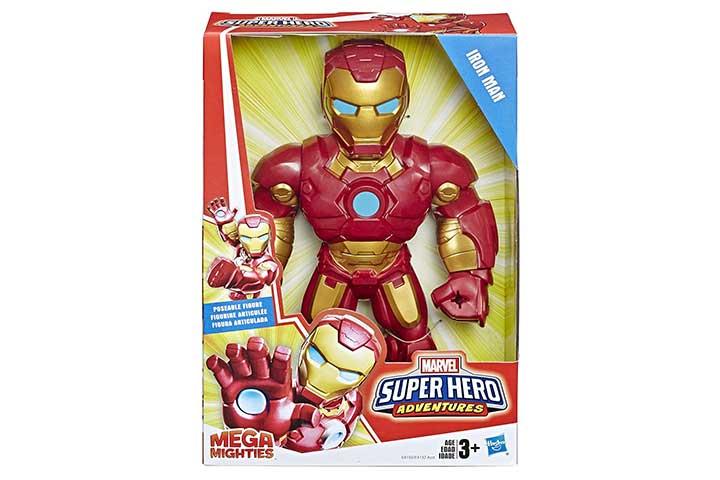 Your child can now make Iron Man dance to his tune. This 10-inch action figure comes with a movable head, limbs, and waist. Made of plastic, it is sturdy, and your child can play with it without you having to worry about it getting spoilt. So, let your child's imagination soar with their own little Iron Man in their hand. It is suitable for kids aged three years and above and has been ergonomically designed for tiny hands.
6. Marvel Avengers: Infinity War Nerf Iron Man Assembler Gear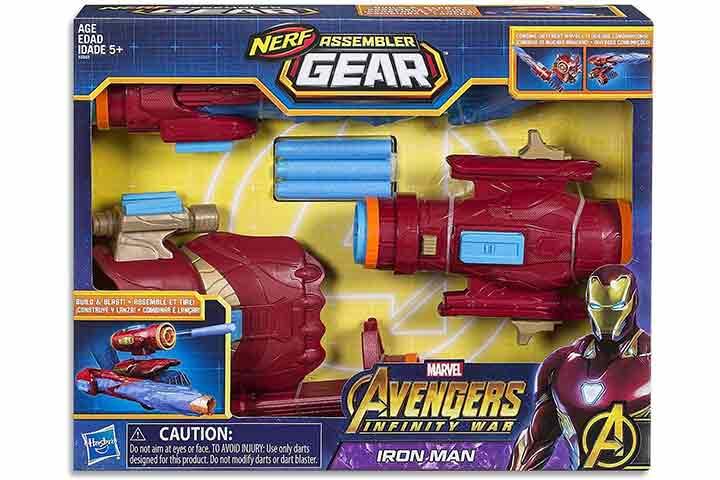 Iron Man's indomitable power lies in his hi-tech weapons. This assembler gear is made of multiple parts that come together to create a powerful weapon. It comes with two connector pieces, and three Nerf darts. All your child has to do is connect, load, and shoot the darts just like Iron Man. There are multiple assembler gear sets available, and the parts are interchangeable, so your kid can create a unique blaster of their own.
7. Halo Nation Superhero The Avengers Costume LED Light Eye Mask – Ironman Mask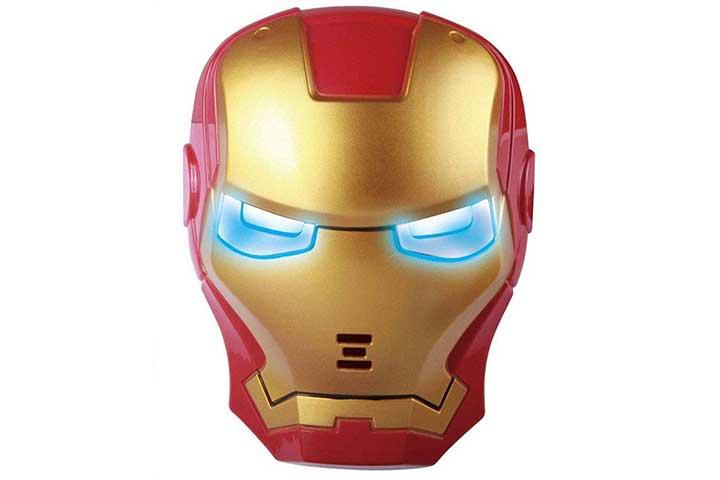 Has your child seen enemies retreat at the sight of Iron Man's glowing eyes? If  they haven't, they will, now, with this LED mask. Inspired by Iron Man's light-up eyes, this mask too e blue light, indicating that Iron Man is ready for some action. It is a perfect toy for role-playing with friends or even for a costume party. It is suitable for kids aged three years and above.
8. Halo Nation Realistic Avengers Ironman Gloves with Power Lights – Rubberized Iron Man Gloves Avengers Toys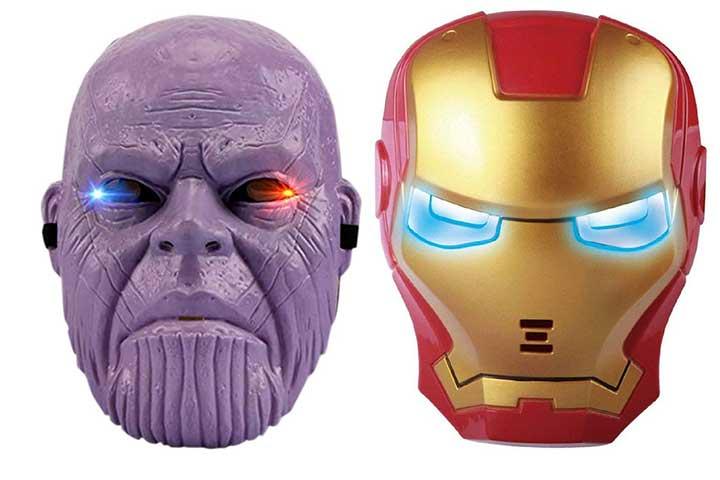 Iron Man's hands can fire laser beams in a jiffy. This pair of 19cm gloves is made of flexible PVC soft plastic that allows you to bend and twist your fingers. The red paint is durable and does not chip over time. The gloves also emit LED lights from both hands. These gloves are suitable for kids aged three to 15 years.
9. POP! Avengers End Game – Captain America in Full Uniform Pop Bobblehead Figure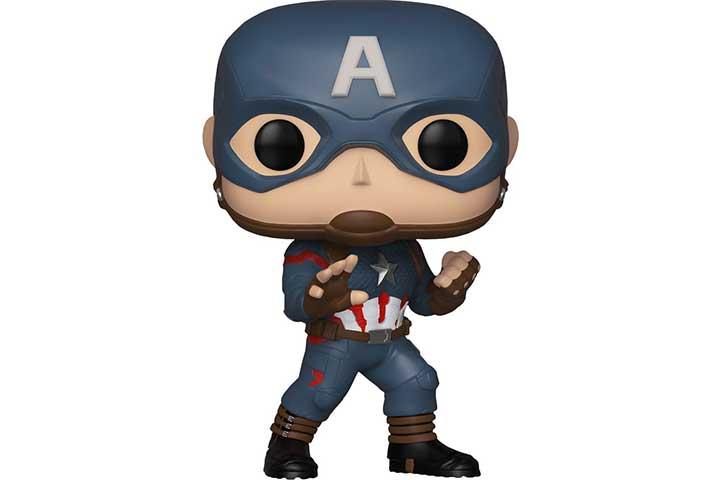 Bobblehead figures are not just for kids, but also us adults. Seeing the cute version of our favorite Captain America bobbing his head is simply adorable. This 4in tall bobblehead is a good choice to place on an office desk, study table, or  your car's dashboard. There are more such collectibles available online, so your child can create a collection of their favorite characters.
10. Marvel Mighty Muggs Talos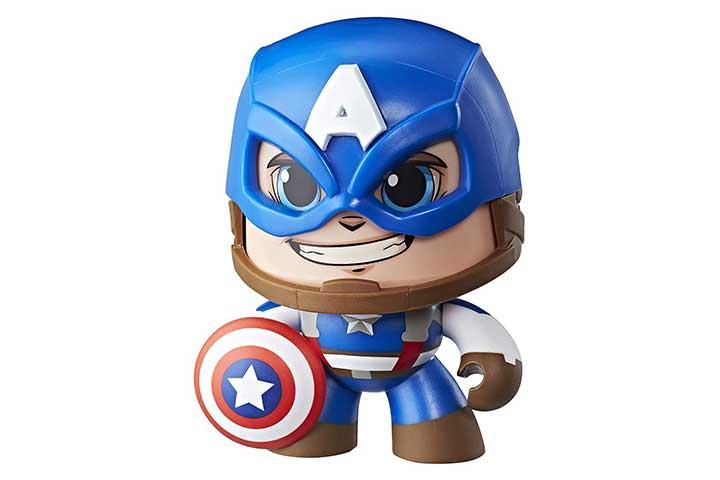 Now this is an interesting version of Captain America, whose face changes expressions. Known as the 'mood swing,' a gentle press on the head, and his head spins inside the helmet to reveal a new facial expression. This Captain can look happy, annoyed, and angry. And our Captain is not alone, as there are more such Marvel characters to collect in this series.
11. Marvel Avengers: Endgame Titan Hero Series Captain America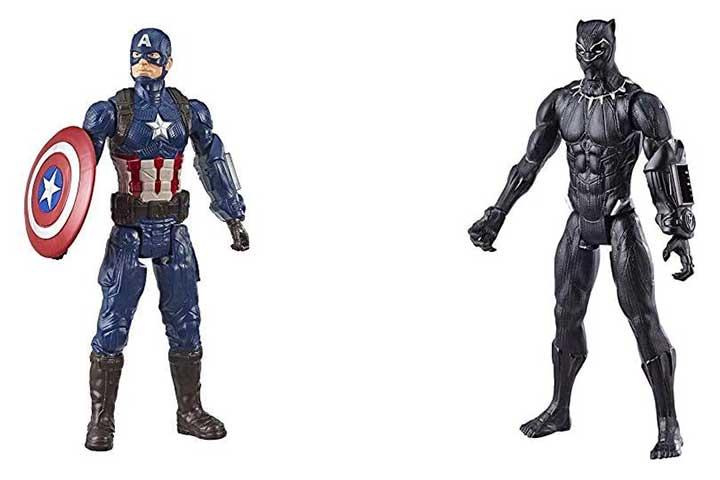 Have a look at this Captain America figurine in its complete superhero gear. This 12-inch toy, when connected to a power FX launcher, makes sounds and launches projectiles. Your child can recreate some of their most favorite scenes from the Captain America movies. However,  this time around, Captain will do only what your child asks him to do.
12. Plutofit Captain America Civil War Like Blaster Reveal Shield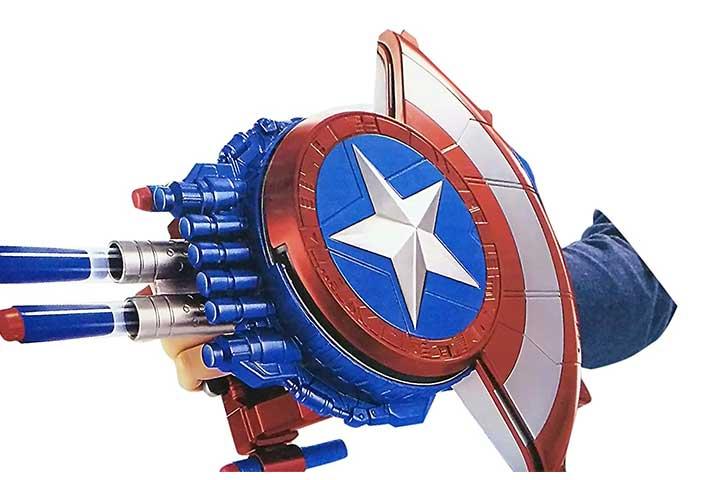 Like most superheroes, our dear Capt. also has a blaster that launches Nerf darts. This blaster is designed on Captain America's shield. So, now, the shield will not only protect your child from blows, but also launch darts. All your child has to do is wear it on their arm and press the silver star in the center to see darts flying out and hitting the target.
13. Super Hero Adventures Marvel Mega Mighties Hulk Collectible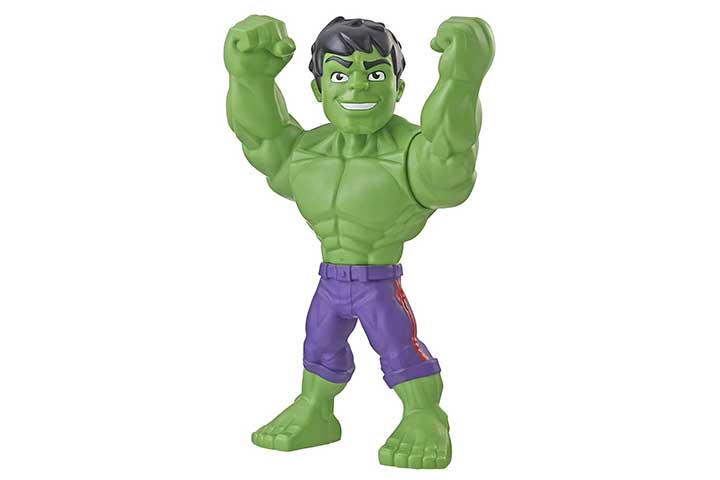 Ever seen the green beast Hulk happy? Well, here is a smiling Hulk. This 10-inch mighty Hulk comes with movable limbs and waist so it can take any stance. Your kid can create their  own storylines involving the Hulk defeating the evil villains. If your child loves the Hulk, then they can surely have this smiling figurine in their collection. It is suitable for kids aged three years and above.
14. Diamond Select Marvel Select Red Hulk Action Figure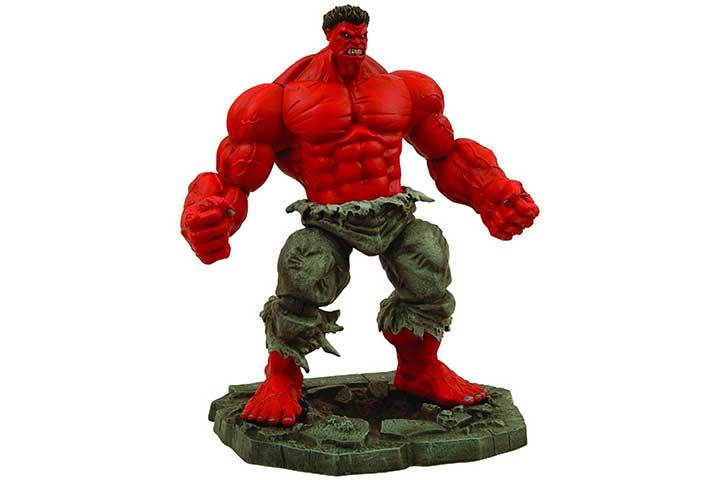 Looking for a Hulk toy that is different from all others? Here is a fiery red Hulk burning with rage. This 8-inch tall figurine comes transfixed on a rubble base that reflects the impact of Hulk's rage. Keep it on your child's study desk or near the television. Collect the other versions of this beast and create a storyline of this transforming superhero.
15. Marvel Avengers: Endgame Titan Hero Hulk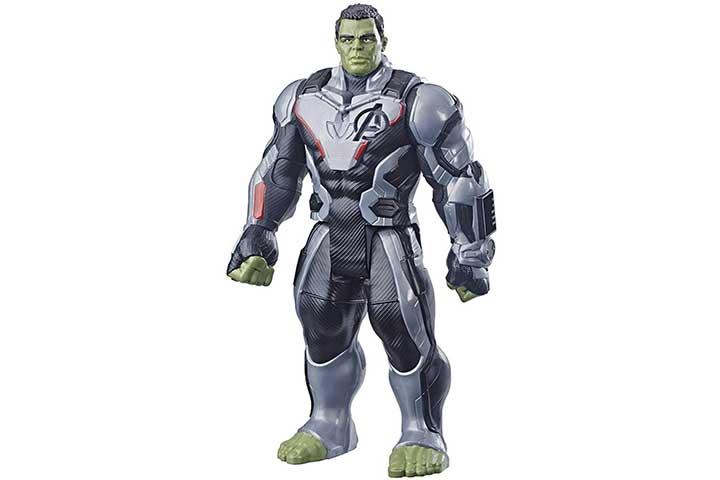 Here is the alter ego of the Hulk, that is, Bruce Banner in his Avengers uniform when out to save the world from Thanos. This figurine is a part of the collectible series that comes with a port in the arm that is compatible with the power FX pack.
16. Spider-Man Marvel Spider-Man Hero Mask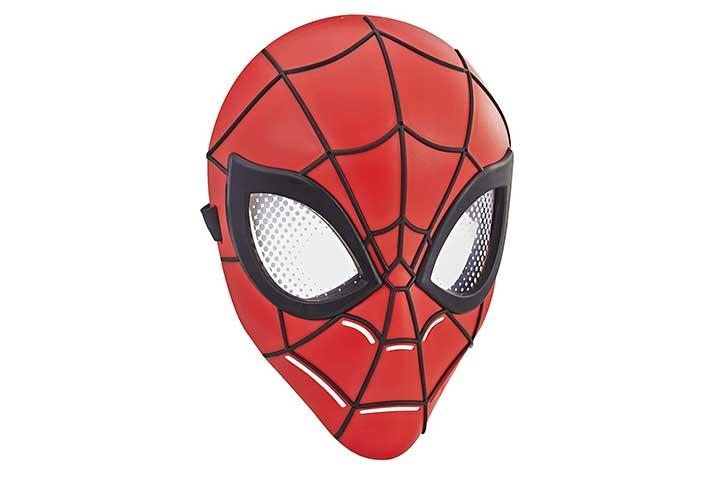 Spider Man masks have been a favorite with kids for costume parties. This Spider Man mask allows your child to act like the real superhero and pretend to save the day for their friends while keeping their identity hidden. The graphic pattern on the eye lens gives it a actual net feel like that in the original costume. The flexible band helps it fit snugly on your child's face.
17. Marvel Spider-Man Spiderbolt Nerf Powered Blaster Toy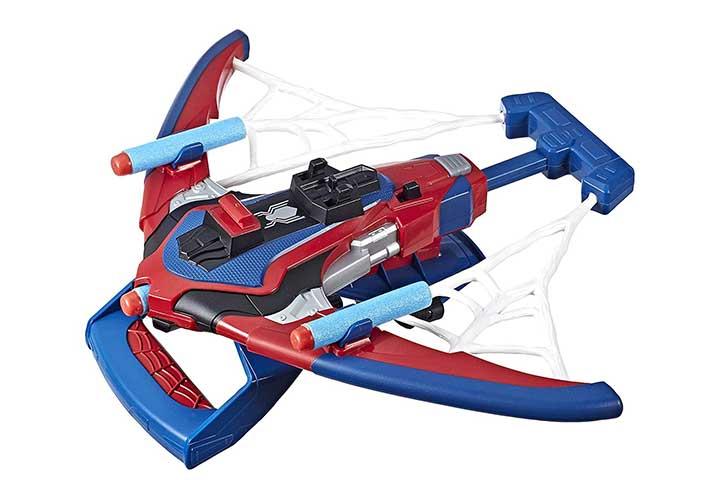 Here is a Spidey blaster toy. Designed in blue and red, your child can wear this toy  on their arm and shoot Nerf darts with it. All they have to do is aim and pull back the handle, and the dart will go zooming to hit the target. Its web detailing helps make it look similar to the Spider Man's web, with which he nabs thieves.
18. Marvel Spider-Man Titan Hero Series Spider-Man Figure with Titan Hero Power FX Arm Port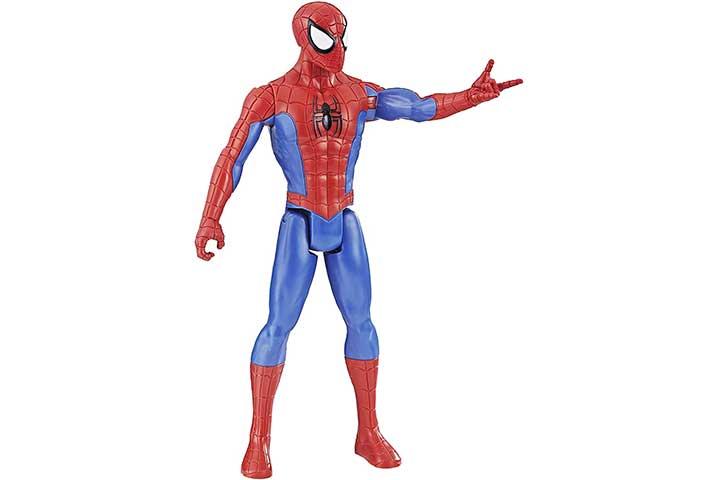 Do not miss the friendly neighborhood Spider Man. This figurine is a part of the FX arm port series. Spider Man has this port on his arm that allows your kid to connect the power FX parts, which can act as a weapon and make them powerful against their enemies during a role-playing game.
19. POP! Avengers End Game – Captain Marvel Pop Bobblehead Figure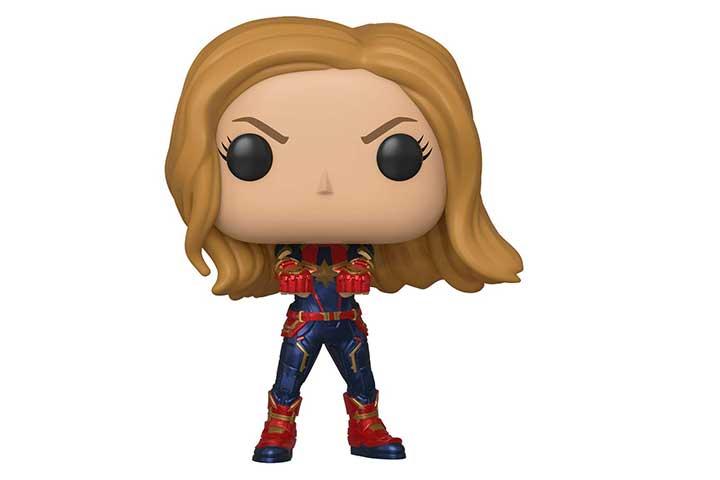 The latest superhero addition to the Marvel family is extremely popular with kids. This female superhero named Captain Marvel has a bobblehead of her own. Your superhero collection will be incomplete without this 4in tall fearless superhero. With her flowing blonde hair, big dark eyes, and a fierce expression, she looks every bit as powerful as Captain Marvel.
20. Anvittoyworld Captain Marvel Action Figure Toy with Sound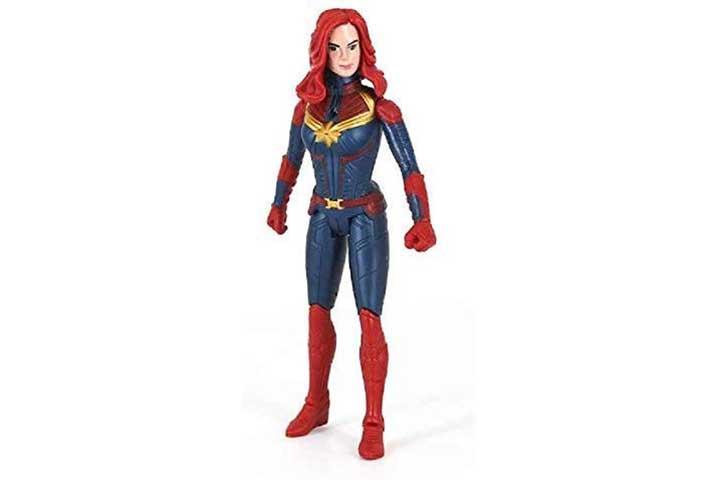 This 12-inch figurine of Captain Marvel is made of PVC material. It comes with movable joints and flashes LED light. It also plays sound effects to make it sound like the real Captain Marvel. Let your child bring their imagination into play and fit this new superhero wherever they want to in their Marvel universe.
21. Marvel Legends Series Captain Marvel Action Figure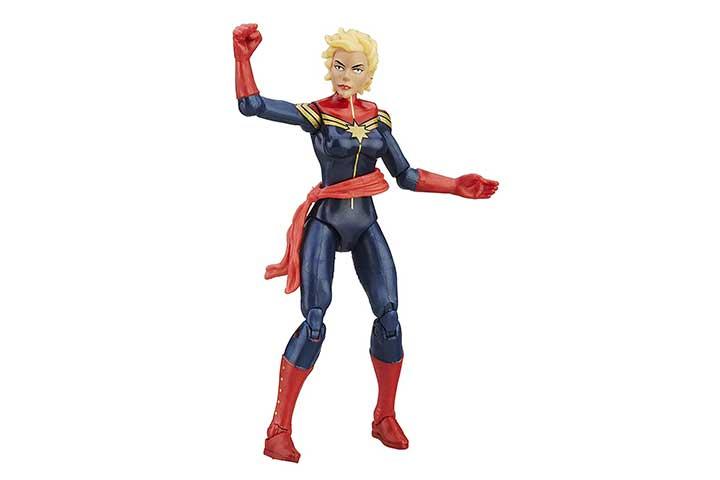 Super-strong and determined that she is, Captain Marvel will succumb to no one. And this 3.75in figurine stands for that unbeatable spirit of this tough heroine. The movable limbs allow your child to make her take any stance of their preference. She can stand on her own and fight like a boss. So, encourage your child to create new storylines with this interesting superhero.
22. Marvel Black Panther Vibranium Power Fx Mask with Pulsating Light Effects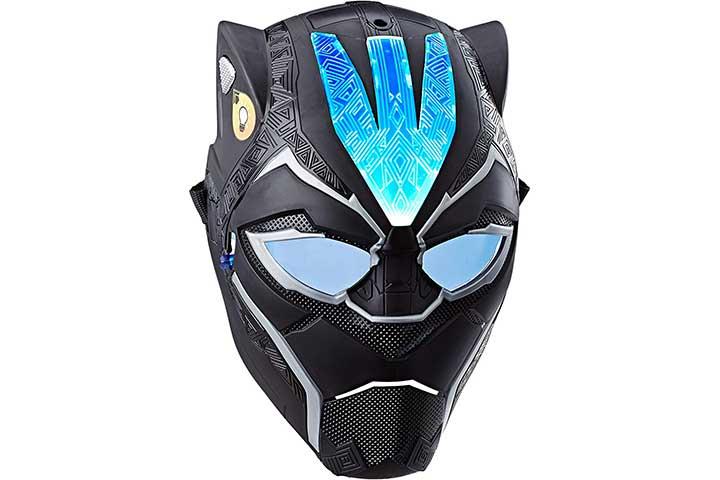 Black Panther is a rage amongst Marvel fans, and this mask takes the craze for the hero a notch higher. This Black Panther mask comes with pulsating and fixed light effects. The eyes come with two settings, one with the blue lens cover, and the other without it. The button to activate the lights is at the ears of the mask, while that of the eye lens is next to the eyes. Let your child become the Black Panther of their imagination with this mask.
23. Marvel Avengers End Game – Black Panther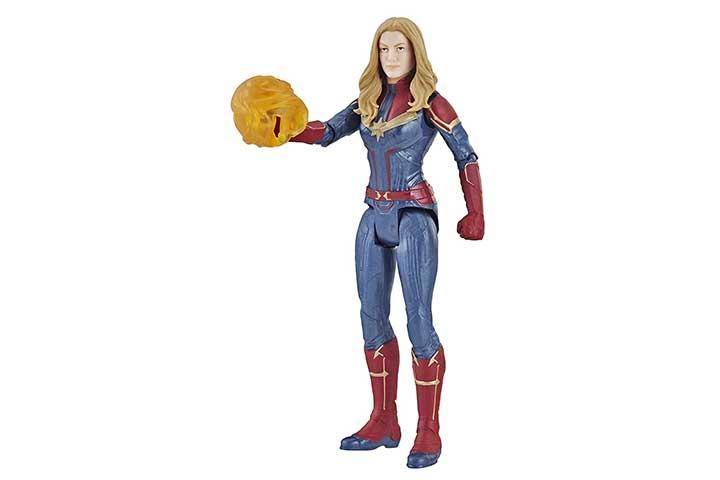 Looking for a cool Black Panther collectible?  Look no further. This 6in figurine of King T'Challa in his Black Panther avatar comes with a spear that he uses to fight his enemies. Its hands and legs are movable, so your child can make it move any way they  want. This figurine is a part of a set, so you can collect similar Marvel characters to complete your personal Marvel universe.
24. Marvel Nerf Power Moves Avengers Black Panther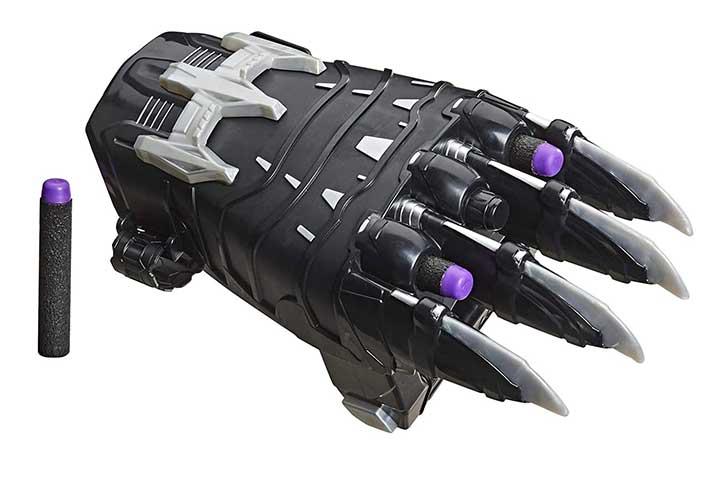 Now, here is the perfect game for Black Panther and Nerf game fans. Designed to look like Black Panther's claws, this hand launches Nerf darts in the air. It comes with three Nerf darts for your child to have fun playing with it. They can transform into Black Panther and save Wakanda with their sharp skills of launching darts at their enemies. It is suitable for kids aged five years and above.
What To Look For When Buying Marvel Toys
You can consider the following tips when buying a Marvel toy.
Brand: There are a lot of counterfeit Marvel toys available in the market. If you are looking for the original toys, opt for reputed brands only.
Research: When buying toys online, you can check the reviews of previous buyers of the same product to help determine the authenticity of the toy.
Price: Marvel toys are not very expensive, but the genuine ones do not come cheap either. Look for the price range to see if it is worth the price and fits your budget.
Collecting Marvel character figurines and accessories is always fun for kids as well as adults. Do you have a Marvel collection of your own? Which character do you like best? Let us know in the comments section below.
Was this information helpful?