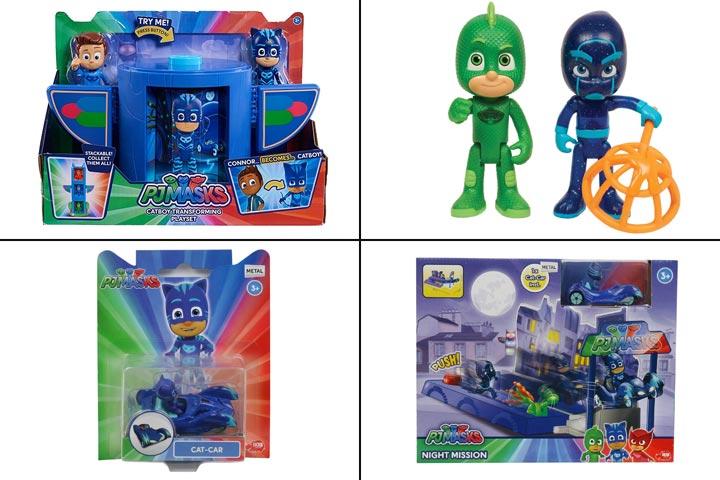 PJ Masks or Pyjamasques is an animated superhero series. It is based on a French book series called 'Les Pyjamasques,' written by Romuald Racioppo. The series and its characters — Catboy, Gekko, and Owlette are so popular that children love to have their toys. If your child is a fan of this television series, then a PJ masks toy would certainly make them happy.
In this MomJunction post, we bring you a list of the best PJ masks toys that your kid may like to be surprised with. We also tell you how to select the right toys in the latter part of the article.
14 Best PJ Masks Toys
1. Superhero Night Ninja And Vehicle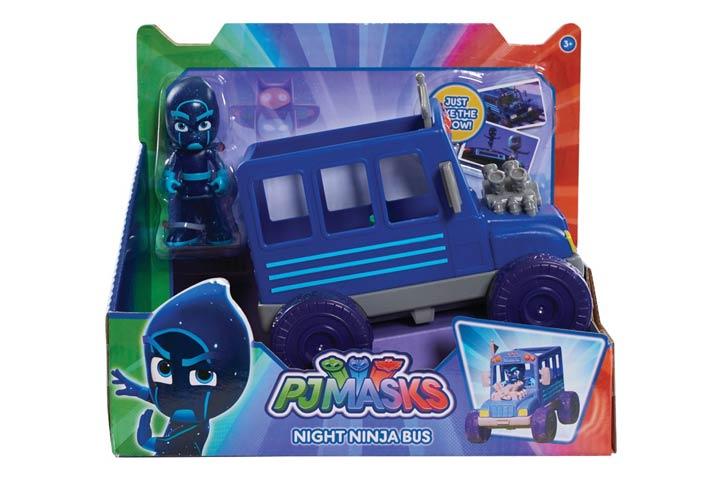 This toy pack comes with a Night Ninja toy along with his blue-colored bus. It is three inches in size and is designed with attention to detail. The high-quality toy and vehicle are not affixed together and can be played with separately. The bus has an open space on top, through which the Night Ninja toy can be inserted and placed on the bus driver's seat. It measures 21.6 x 10.5 x 18.4 and weighs 340g. It could be a colorful PJ Masks toy for any child who loves to watch the series.
2. Romeo's Lab Playset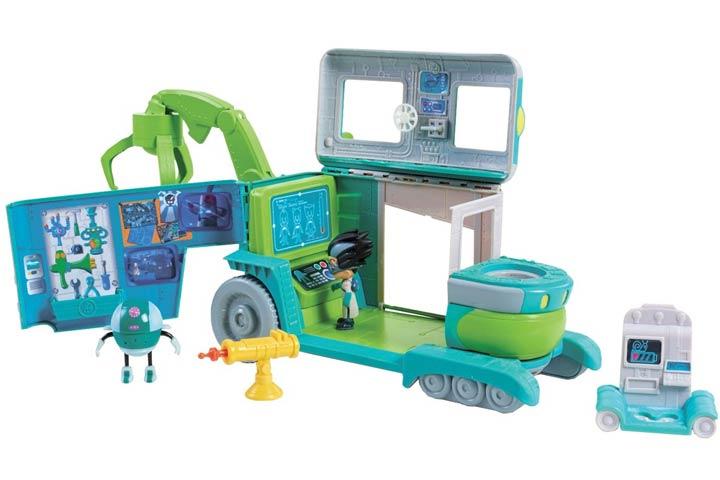 This PJ Masks playset is designed interestingly. It comes with a laser launcher, sound and light control panel, rolling lab charger, working crane, and a Romeo figure of three inches. The lab can be playfully transformed to multiple levels, while the sound and light panel play different phrases and sounds. It is designed accurately and beautifully such that a PJ Masks fan would like it.
3. Transforming Cat Boy Figure Set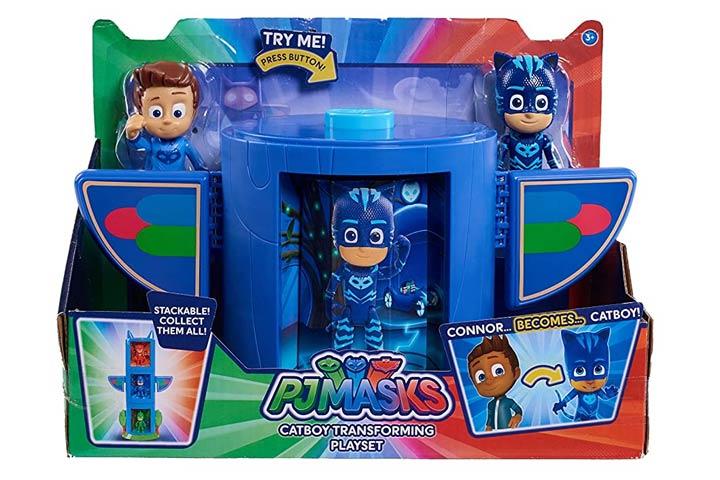 This transforming kit helps children to change Connor's character to Catboy, the superhero. The two toys, Connor and Cat boy measure three inches each. The two figures have to be put in two different slots, and then the push-down button has to be pressed. The kit rotates to make it look like the character has been transformed. The details of the character toys are designed with precision and are made using good-quality material to make it long-lasting.
4. Deluxe Gekko Vehicle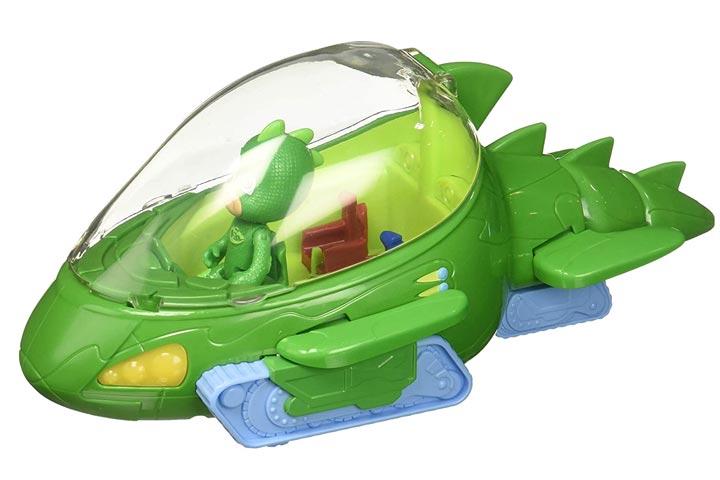 The pack comes with a Gekko toy and its green spaceship-like vehicle. It runs on two AAA batteries to light it up and play sounds and music. It is a fun-to-play gift for children who are three years old and above. The Gekko vehicle can fit up to three PJ Mask figurines in it. The set is of high-quality and is durable as well. It is an attractively designed toy.
5. Foam Disc Launcher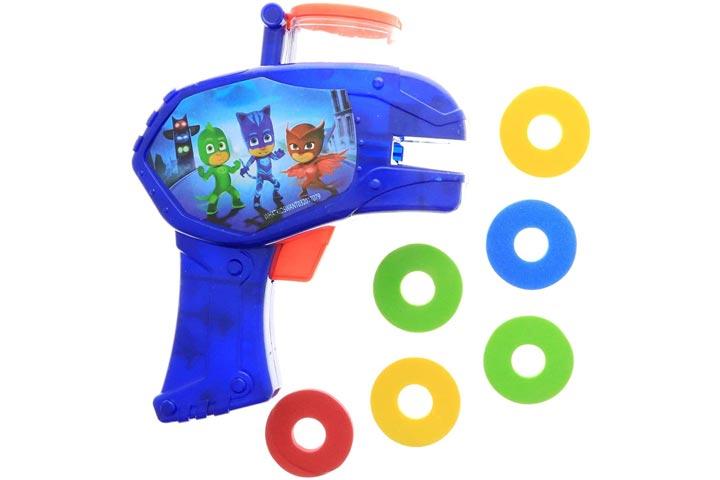 This toy is a shooter, or a disc launcher, with a picture of PJ Masks' characters on it. It is blue in color and appropriate for playing both indoors and outdoors. The launcher measures 10.4 x 7.1 x 1.7 inches and weighs 6.4 ounces. It comes with six foam discs in blue, green, yellow, and red. Playing with this toy is exciting for the children, and their motor skills may also improve.
6. Owlette Transforming Figure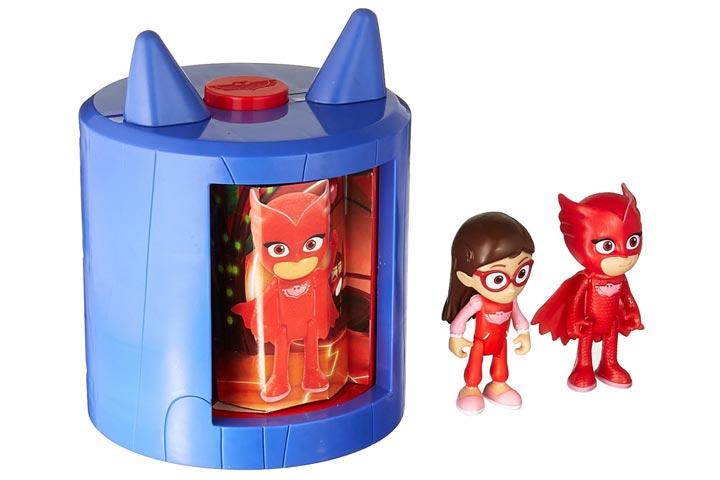 It is a unique PJ Masks toy that includes one Amaya figure, one transforming box, and one Owlette figure. Children will enjoy transforming Amaya by putting her figurine in the box, pushing the button, and bringing out the Owlette figurine from the other side. Each figurine is three inches in size. The toys are attractive and designed to perfection. It could be fun to play with this MJ mask toy set.
7. Gekko And Night Ninja Light Up Figures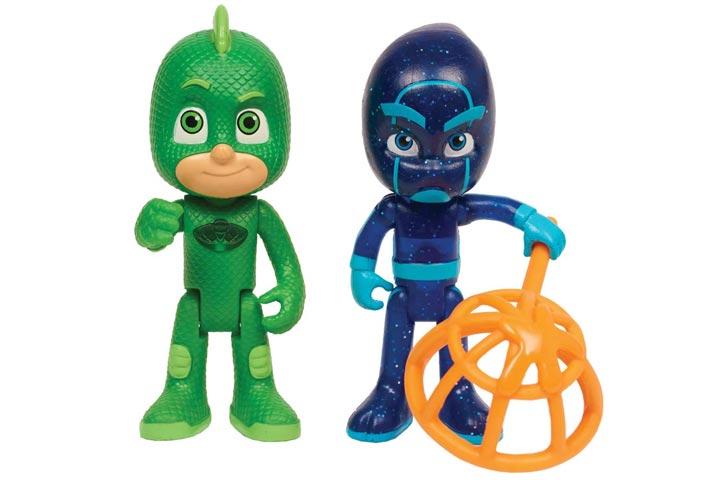 This pack of toys includes two popular characters from MJ Masks. The green-colored Gekko and the blue-colored Night Ninja. It also contains one accessory, which is Romeo's remote. The toy needs three batteries. Each figurine measures 7.5cm. The toys are well-designed with precision and could be one of the best choices for PJ Masks fans.
8. Diecast Vehicle Toy Set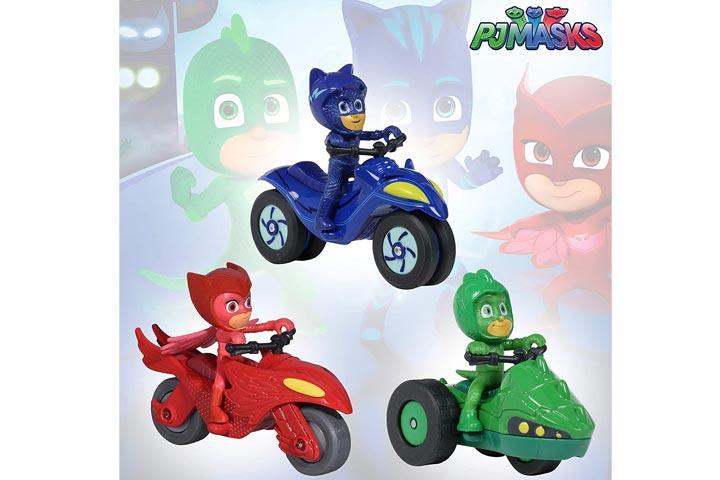 This set contains three toys, the characters of PJ Masks, namely Catboy, Owlette, and Gecko, on their motorcycles. Each toy is 7cm in size and is made of metal. The toys are designed and manufactured with precision and are durable. They come in a well-packed box, which is ready to gift. The set is recommended for children who are three years old and above.
9. Diecast Owl Glider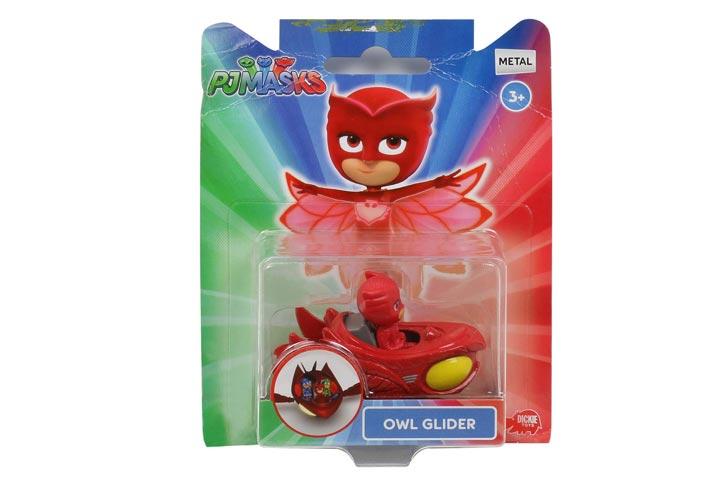 This owl glider toy is made of high-quality diecast metal. It measures 7cm in length and 5cm in height and has a scale of 1:64. The toy comes with tiny wheels that move freely on the ground and any surface. The toy figure and the vehicle are designed with intricate details and colored bright red. This toy set is suitable for children who are three years old and above.
10. Romeo's Lab Vehicle Toy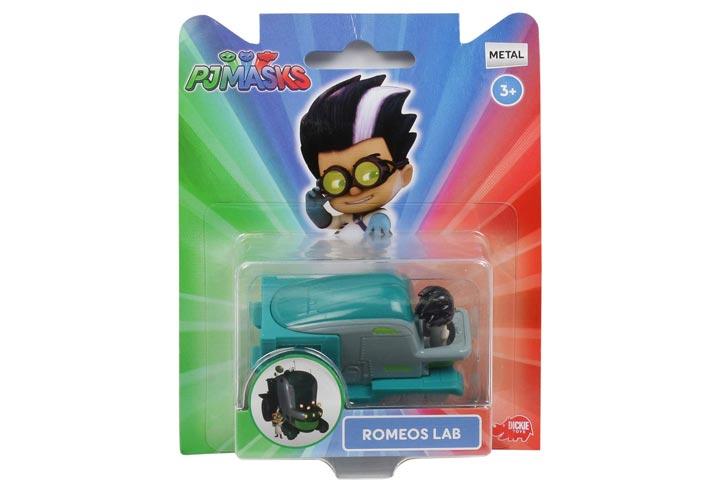 It is a single-piece diecast toy of Romeo with his lab vehicle. The character Romeo and the vehicle toys are affixed. The scale of this toy is 1:64, and it is 7cm in size. The toy comes with the free-wheel feature. It is of high quality and is designed keeping intricate details in mind. The toy is recommended for children who are three years old and above.
11. Cat-car Toy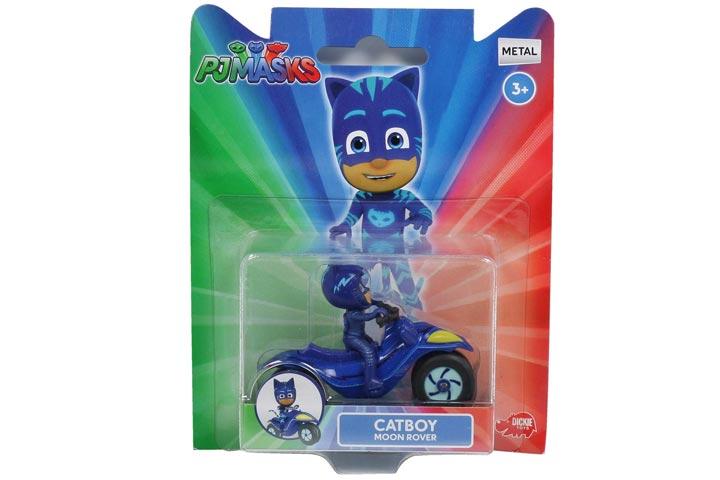 This Cat car toy is designed and made so pleasing that children aged three years old and above would like it. The Cat boy and his little vehicle come attached. The vehicle has tiny wheels that move freely on any surface. This toy is made with diecast housing, which makes it a sturdy and long-lasting product. It measures 15.4 x 12.5 x 5.2cm and weighs 68g.
12. Diecast Micro Racer Vehicle Set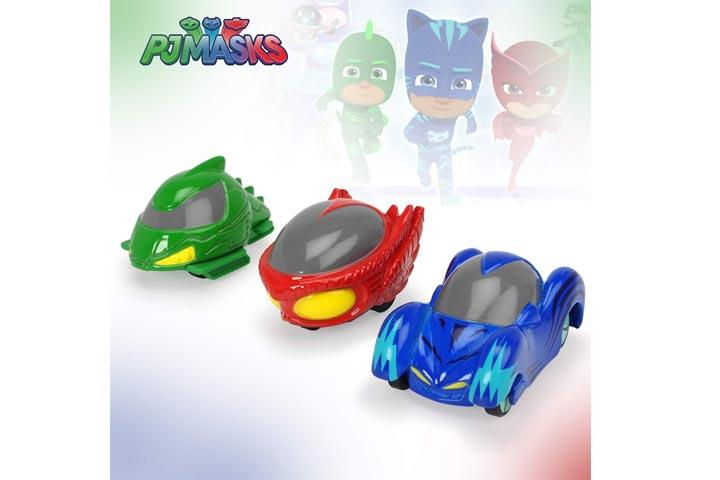 This set includes three diecast vehicles — Owl glider, Cat speedster, and Gecko mobile. Each car is 4cm in size and made of good-quality diecast metal. The three vehicle toys are neatly designed and brightly colored in red, blue, and green. This pack is best to gift for children who are three-year-old and above. All three vehicles come well-packed in one box, with a thread on top to hold.
13. Night Mission Game Set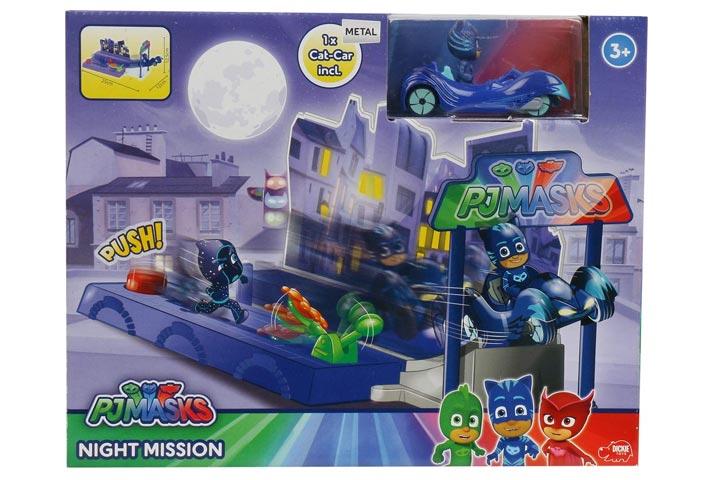 It is a uniquely designed game set that includes a launcher, catapult, ski jump, light, batteries, and one diecast Cat car. The smooth mechanism of the playset gives a fun time to the children. It could be one of the best PJ Masks toys for children who are three years old and above. The product measures 24 x 4 x 19cm and weighs 431g.
14. Catboy Deluxe Dress Up Set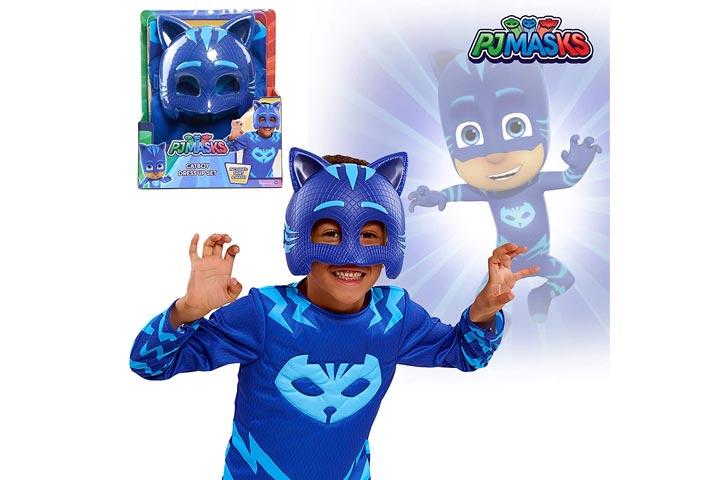 This pack contains one t-shirt and one mask of the superhero Catboy. This blue-colored costume is designed attractively and intricately for the children who are between the age of three and eight. The dress set is made with high-quality fabric, and it weighs 404g. It is a unique PJ Masks toy designed to surprise the fans of this television series. The product is of good quality and is durable as well.
How To Select The Right PJ Masks Toys?
Consider these tips for selecting the right PJ Masks toys.
Quality: When you are buying toys for children aged between three and eight, it is essential to check the quality of the product. Kids may not only play with the toys but may also keep them in the mouth. A high-quality, toxin-free product is safe to play with.
Age: Know the age of the child for whom you are looking for a PJ Masks toy. For instance, a multi-level set may not be useful for a two or three-year-old kid. Similarly, a simple diecast toy may not be liked by a ten-year-old child. At the same time, check the age recommendation of the manufacturer before purchasing a toy.
Character: PJ Masks television series includes several characters. It may be possible that children have their favorite and least-liked characters. It is better to know the characters or superheroes they like, and then gift them the same.
When you have the details of the PJ Masks toys, then selecting the best or most appropriate PJ Masks toy for your little one or for gifting wouldn't be a difficult task. Go through our list again, compare one toy with another based on features and price, and choose the best to surprise the kids.
Who is your child's favorite PJ Mask character? Tell us about it in the comment section below?
Was this information helpful?