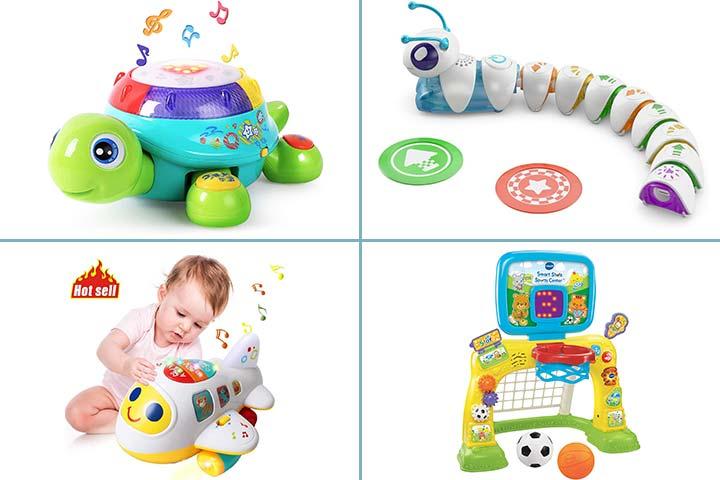 Playing with electronic toys is fun for toddlers. These toys make sounds and movements that entertain kids. But most importantly, these toys could help develop motor, language, and sometimes even emotional intelligence.
When buying gifts for children, select a toy that would be helpful in your child's growth process. MomJunction brings you a list of best electronic toys for toddlers. See if any of them look good for your little one.
17 Best Electronic Toys For Toddlers
1. VTech Go! Go! Smart Wheels Emergency Vehicles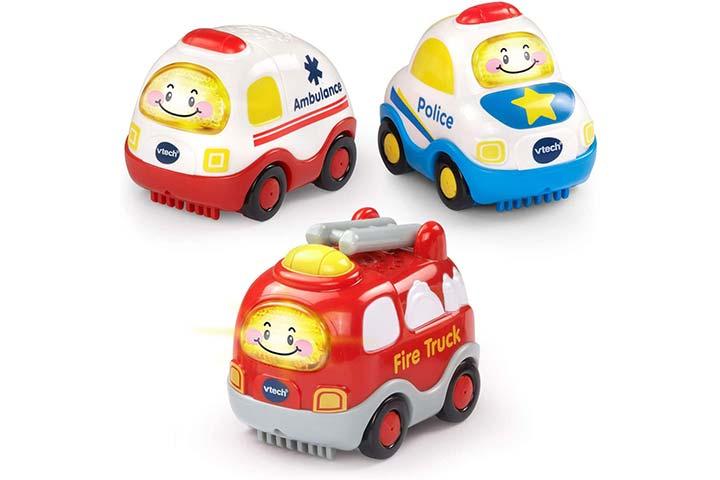 Three cute emergency vehicles are here to teach kids three different sing-along songs. The toys run on batteries and shut off automatically when not in use. The more you push them, the more different their response will be. 
Pros:
Each vehicle plays different educational phrases
Pressing the light-up button improves finger dexterity
Moving the toy helps develop hand muscles
Vehicle promotes imaginative play 
Cons:
2. VTech Smart Shots Sports Center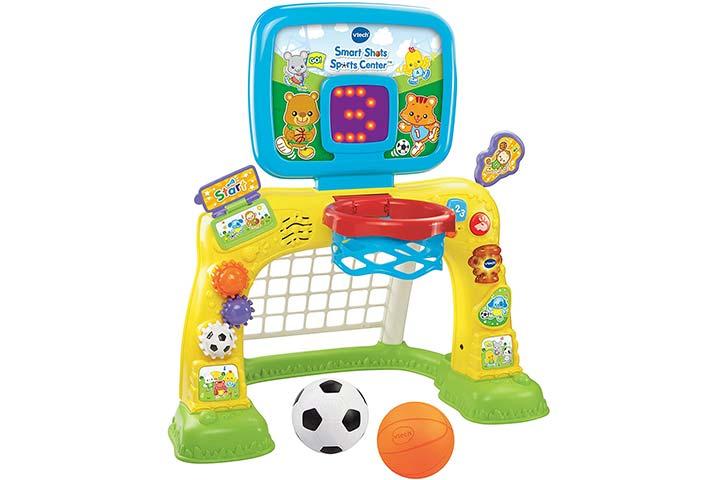 Let your tiny tot develop some love for sports early on with this sports center. It comes with a basketball that your kid can put through the hoop and a soccer ball that your baby can kick through the net. The scoreboard on top of the frame displays the score with an LED light. It also plays songs and phrases for kids' entertainment.
Pros:
Kicking and bouncing the balls help develop gross motor skills
Turning levers on the frame help enhance fine motor skills
Music teaches rhymes and common phrases
LED score count introduces kids to numbers and counting
Pressing large buttons teach cause-and-effect
 Cons:
The frame may lack durability
Height may seem short for an average toddler
3. VTech KidiZoom Camera Pix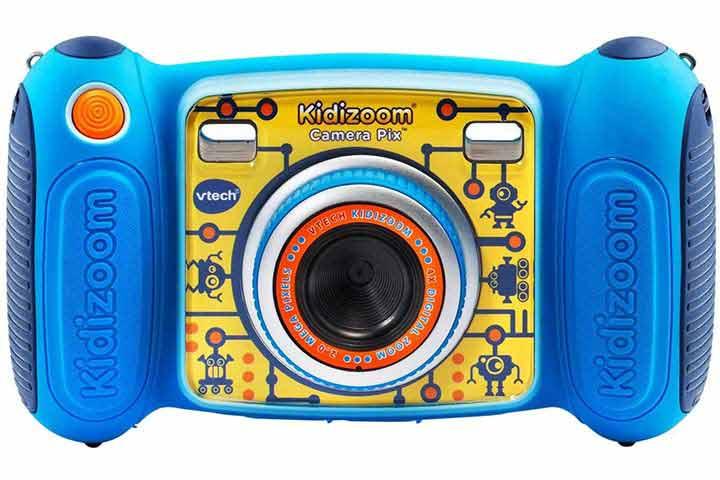 Little kids nowadays are very tech-savvy and can handle digital devices like a pro. One such device is this kids' camera. It works like a real camera but is built to suit a growing toddler. It comes with selfie modes, face recognition, voice recording, and other features. It runs on batteries and comes with built-in memory and an SD card slot.
Pros:
Photo editing promotes creativity
Relevance of toy grows with the child's age
Could help develop an interest in photography 
Cons:
Video games in the camera may be distracting
4. Best Learning Whack and Learn Mole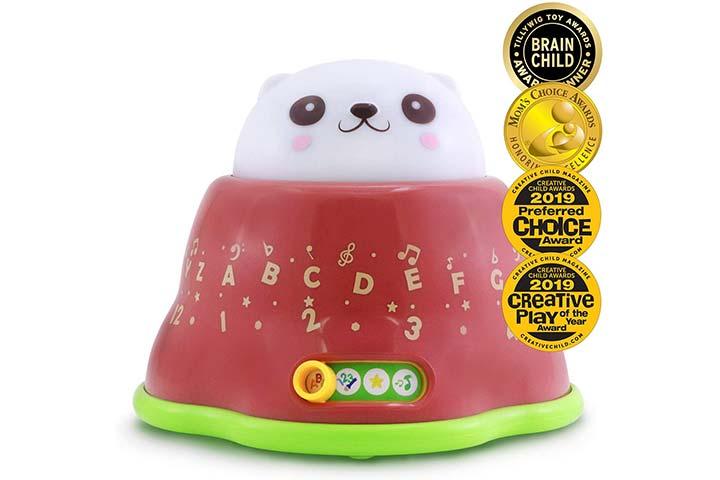 Winner of multiple awards, this toy is a little music teacher for your kid. It has a learning mode and a sleeping mode. So, when your child is done playing, this toy will play calming music to put your baby to sleep.
Pros:
Helps teach alphabets, colors, numbers, and so on
Whacking action helps develop hand muscles
Free of PVC, BPA, and phthalates
Volume setting enables you to set the sound as preferred 
Cons:
Expensive
Lights may seem too bright
5. Homofy Huile Electronic Airplane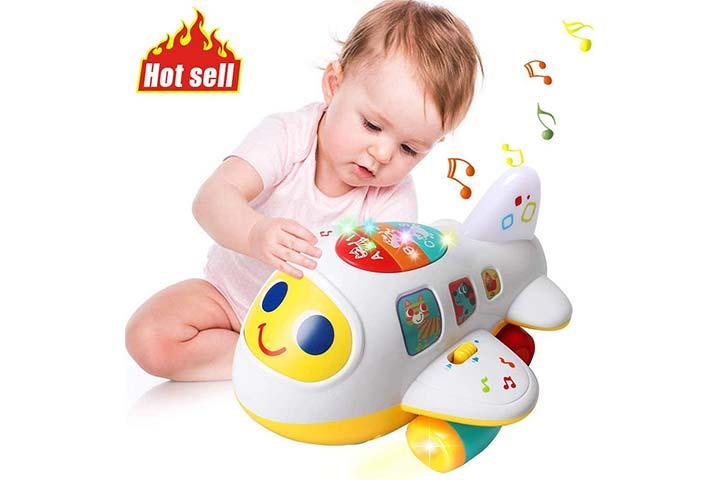 Toddlers simply love it when toys emit lights, make sounds, and move around. And this little airplane does all of it. It moves forward while playing music that your kid can learn from and the flashing lights that can attract any child's attention.
Pros:
Made of non-toxic ABS plastic
Learning mode teaches letters and numbers
Encourages kids to crawl or walk after it
Pressing the big colorful buttons helps develop finger muscles
Free of BPA, lead, and phthalate 
Cons:
Actual toy can be smaller than that shown in pictures
May not be very sturdy enough to withstand accidental drops
6. The Learning Journey Little Music Maracas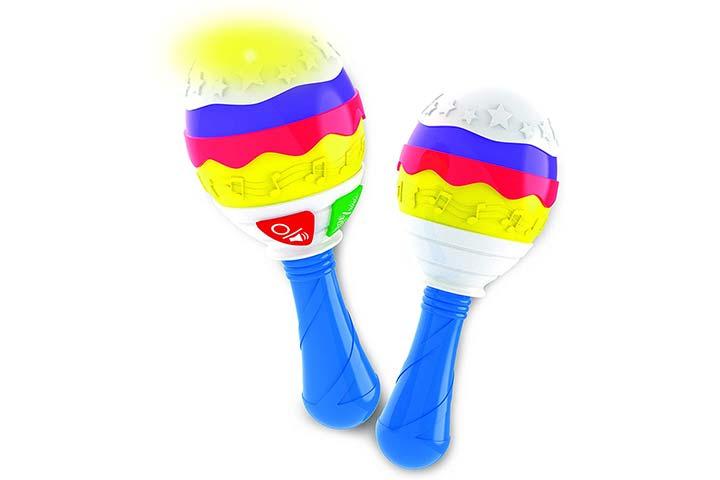 For kids who are restless and constantly need some distraction, these maracas could be a good choice. It is easy to hold and play and comes with multiple modes that flash lights, play songs, and music. It is made following the toy safety regulations and has even won an award for its popularity amongst kids.
Pros:
Helps introduce music to little kids
Holding the toy helps strengthen grip
Shaking the toy develops fine motor skills
Promotes cognitive development by encouraging kids to create new rhythms 
Cons:
The sound that the toy makes may get annoying after a while
7. WEofferwhatYOUwant Electronic Pet Dog Harry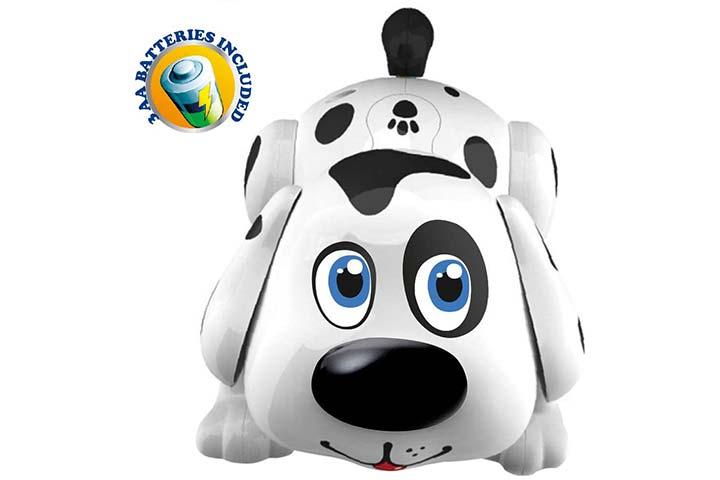 Now here is a talented dog that will sing, dance, run, and do anything to keep your child engaged. Named Harry, this toy dog makes sounds and speaks words that will make kids laugh. It responds to sensory touch and makes a good autism toy.
Pros:
Toy makes sounds to keep the child engaged
Responds to touch and enhances the child's tactile senses
Running movement compels kids to run after it
Introduces kids to the idea of keeping pets 
Cons:
Animated sounds of the dog can get annoying after a point of time
Absence of volume control can make the sound irritating
8. Best Learning Mushroom Garden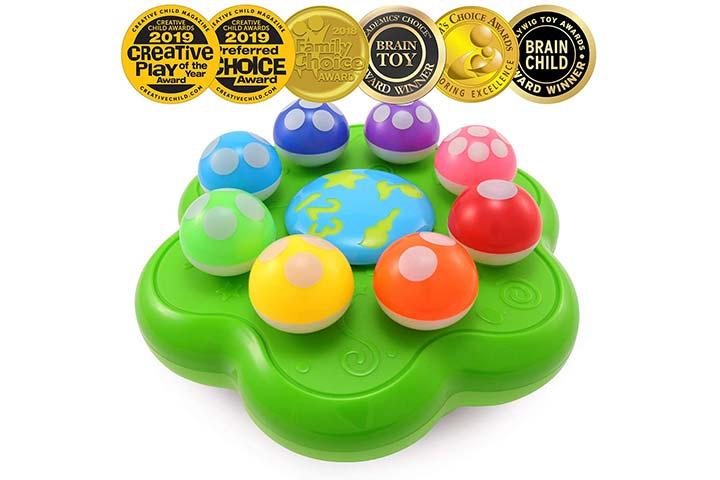 This interactive toy has won multiple child awards over a couple of years. It helps teach kids numbers, colors, and music along with some interesting games. It is highly engaging and educational.
Pros:
Helps kids learn and recognize patterns
Can help improve memory
Following pattern enhances hand and eye coordination
Pressing mushrooms boosts finger dexterity
Comes with volume control
Free of BPA, phthalates, and PVC 
Cons:
Can be a choking hazard if small parts come off due to rough handling
Quality of product may not be top-notch
9. iPlay, iLearn Musical Turtle Toy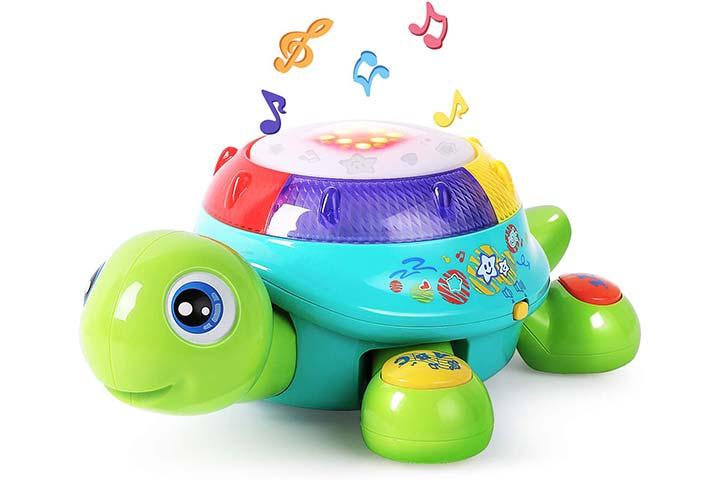 Have a look at this colorful turtle that plays some wonderful songs and rhymes. It also moves forward so your child will crawl and walk after it. Your child can play with it indoors as well as outdoors. 
Pros:
Made of shatterproof ABS plastic
Sturdy built without any sharp edges
Helps teach letters and counting
Different patterns on the buttons help hone pattern recognition
Big bright buttons help strengthen finger muscles 
Cons:
Can get spoilt easily
Spoken voice may not be very clear
10. Joyin Keyboard Playmat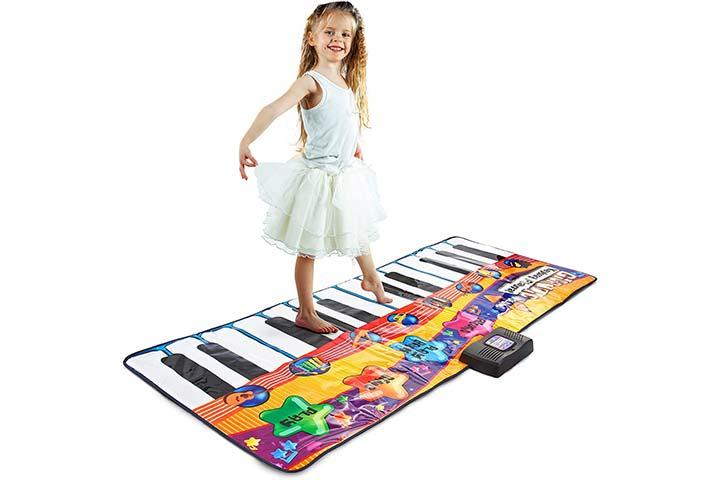 You can teach your child music and dance with this interesting playmat. It is designed to look like a piano and can play eight different musical instruments. You can use this mat to encourage your child to dance in sync with the music.
Pros:
Moving on the mat to create music strengthens gross motor skills
Promotes love for music
Encourages kids to dance 
Cons:
Sound quality may seem poor
Keys may not be as responsive as expected
11. CoolToys My First Learning Bus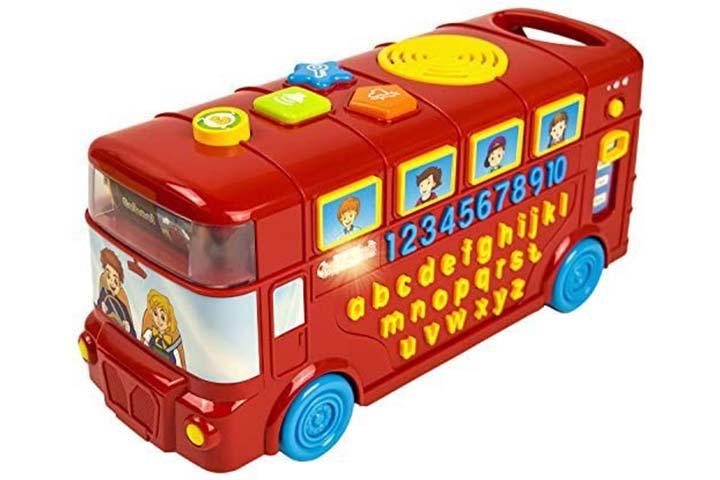 This is an interactive red bus with lots of colorful buttons. Each button activates a different sound that will teach your child something new. It has alphabets and numbers written on the side, so your kiddo finds it easy to learn them. 
Pros:
Push buttons help stimulate the tactile sense
Colorful shapes help teach shape recognition
Cheerful melodies keep baby distracted
Made of non-toxic, BPA-free plastic 
Cons:
The accent may not be easy to understand
Quality of the toy may not fully justify the high price
12. Fisher-Price Think & Learn Code-a-Pillar Toy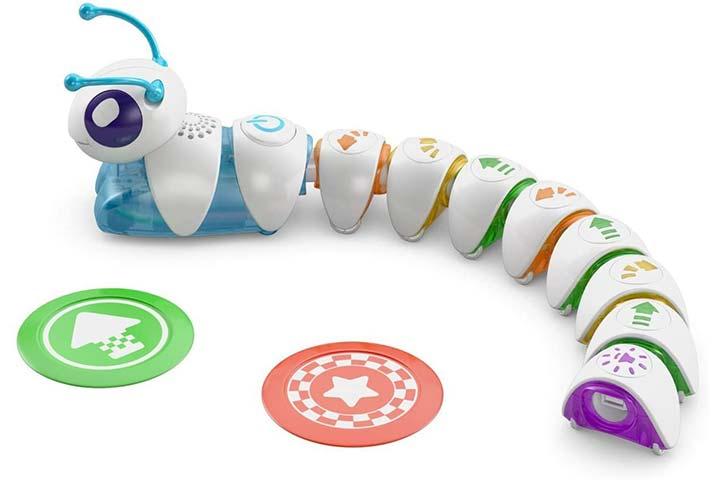 Sense a love for innovation in your child? Teach them coding with this cool caterpillar. It comes with one motorized head and multiple connecting parts that create several combinations, which prompts the movement of the caterpillar.
Pros:
Connecting parts help develop hand-eye coordination
Complicated theme promotes critical thinking and problem-solving skills
Creation of combinations teaches planning and sequencing 
Cons:
Does not come with volume control
May not be very durable
13. Just Smarty Electronic Interactive Alphabet Wall Chart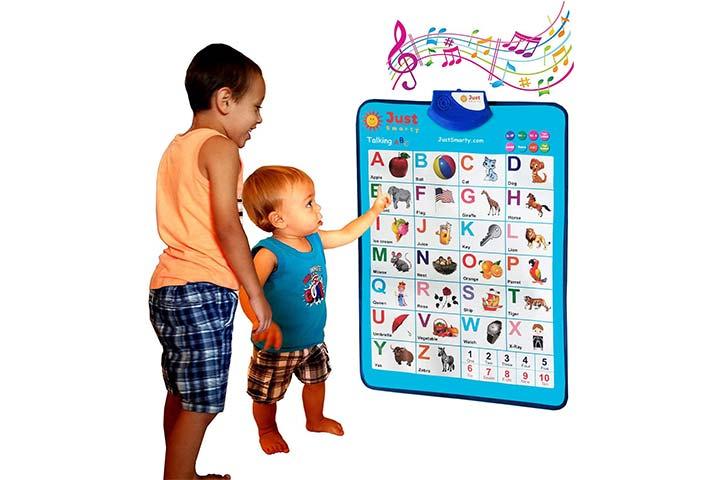 You can make learning alphabets a lot more interesting with this wall chart. It contains letters with pictures that help kids learn faster and remember easily. It also plays some fun kids' songs. 
Pros:
Colorful designs make learning interesting
Teaches kids simple nursery rhymes
Can be hung anywhere in the house
Stops working automatically when not in use 
Cons:
Quality of the product may seem low
14. Sommer Baby Phone with Removable Soft Case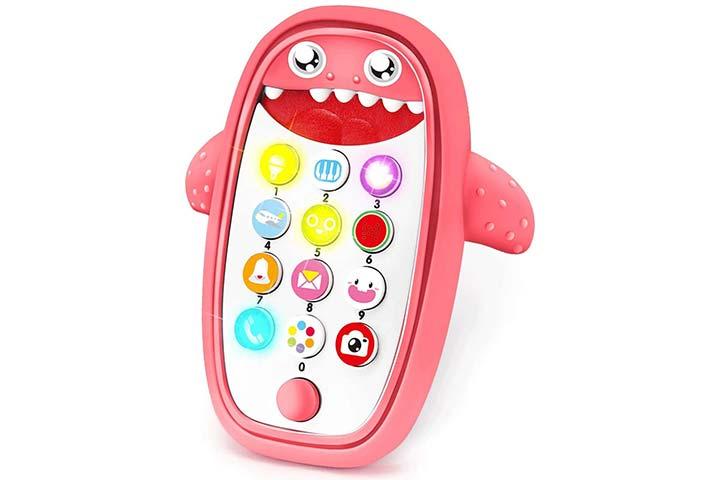 Here is a little phone for your darling baby. It is not only a fun toy but also works as a teether thanks to its detachable soft case. It plays various sounds that will keep your kid entertained.
Pros:
Made of BPA-free plastic
Pressing buttons can develop finger muscles
Operating phone can help strengthen hand and eye coordination
Interactive designs help teach kids numbers 
Cons:
May not offer the best sound quality
15. Infunbebe Jeeves Jr. Kids Microwave Oven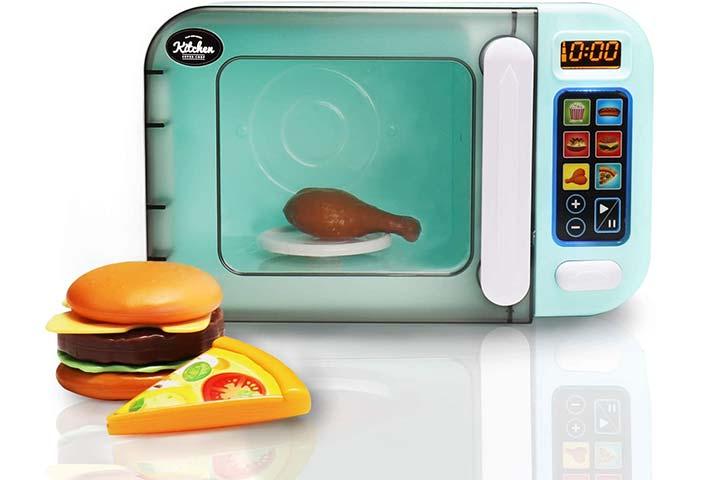 If your tiny tot likes to spend time with you in the kitchen, then this toy microwave oven might interest them. It comes with an interior light just like the one in a real oven. It pings with the automatic shut-off option. It comes with pretend food pieces, so your child has a fun time playing chef. 
Pros:
Made of high-quality, durable plastic
Role play helps develop imagination
Handling multiple parts of the toy helps develop hand and eye coordination
 Cons:
Poor design can make the oven door difficult to shut and open properly
Buttons can seem hard to press for little kids
16. ArtCreativity Bubble Lawn Mower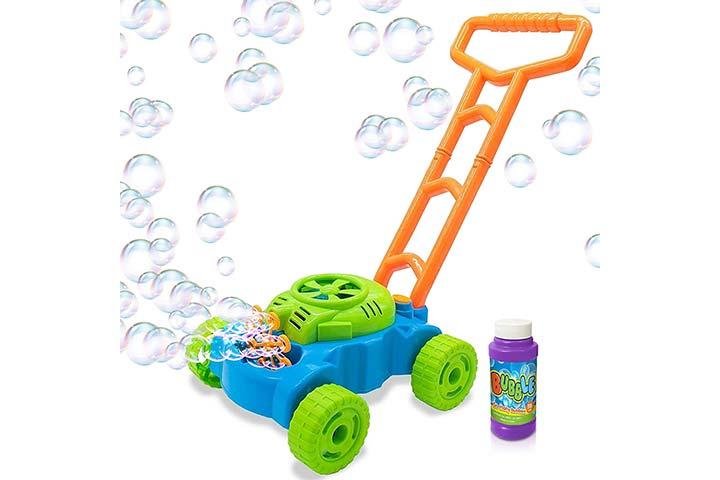 Remember playing with soap bubbles in your childhood? Well, your kid can play make them too and not just in the bathtub, but in your lawn or garden. This lawnmower is a bubble-blowing machine that comes with a bubble solution that blows bubbles as your child pushes it. The more bubbles your child sees, the more they will be encouraged to stand up and push it around. 
Pros:
Simple assembling procedure
Sturdy and durable body
Helps enhance gross motor skills
Realistic sounds keep kids entertained
Encourages kids to venture outdoors 
Cons:
May seem to be made of cheap plastic
17. Boxiki Kids Learning Pad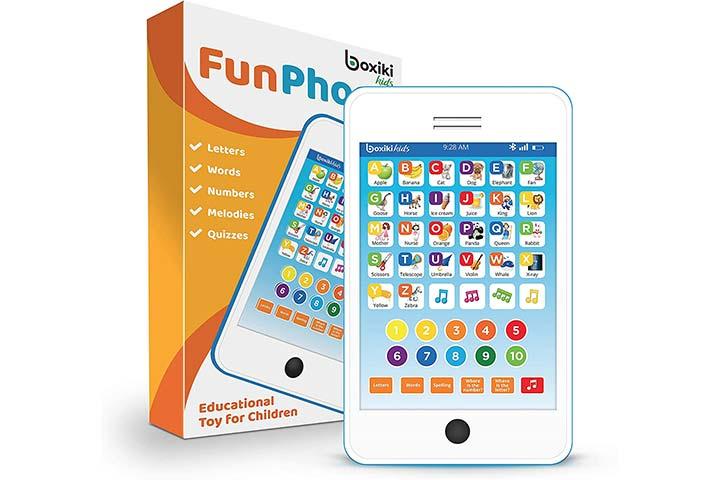 When kids see you on your tablet or phone, they want one for themselves too. So, why not get your child one? This kid's learning pad teaches kids the alphabet, numbers, and new words. It also plays songs to keep them entertained. 
Pros:
Makes learning letter and numbers easy and interesting
Includes games that develop children's cognitive skills
Lightweight pad is easy to carry
Keep kids engaged when travelling 
Cons:
Pad's quality may not be top-notch
Seems too expensive for the quality of product offered
Possible Benefits Of Playing With Electronic Toys 
Electronic toys are different from regular toys because they can be more engaging. These toys are designed to target certain developmental skills of a child. Here are some benefits of playing with these toys.
Toys with sound help develop children's listening skills.
Musical toys can help kids learn letters, numbers, and nursery rhymes faster.
Kids learn music appreciation through musical toys.
Toys flashing lights help develop children's visual skills.
Colorful lights also help kids identify and differentiate colors.
Moving toys encourage kids to crawl or walk or run.
Pressing multiple buttons strengthens finger and hand muscles.
Safety Precautions To Be Taken When Kids Play With Electronic Toys
Here are some safety precautions you can take while handing an electronic toy over to your toddler.
Always ensure that the toys you buy are made of non-toxic and BPA-free material.
The paint used on the toy should be free of lead.
Musical toys should have volume controls, so that loud sound does not damage the child's ears.
It should not have parts that can be a choking hazard. If so, it must be clearly mentioned on the box.
Toys working on batteries must be safely concealed with screws, so kids do not accidentally access them.
The toy should not get heated up when overused. In case of any sign of heating, avoid handing that toy to the children.
It should be made of durable and sturdy material that can withstand frequent drops on the floor.
How To Select The Right Electronic Toys For Toddlers?
Below are a few points to consider before buying educational toys for your kids.
Age: Before you select a toy for your baby, always check the age range specified on the box by the brand. Electronic toys are designed to suit kids within a specific age range.
Price: Do not splurge on toys for toddlers because they are growing, and in a few months' time, the toy they love the most today will become useless. So, it is wise to buy toys within a certain price range because you most probably will be buying new toys every few months.
Toddlers do not have to do much when it comes to electric toys. It is the toy that does everything to keep the child engaged. Brands are constantly coming up with innovative toys that are safe, educative, and fun for kids. Yes, these toys can be expensive, but they will have your child's attention for as long as possible.
Was this information helpful?